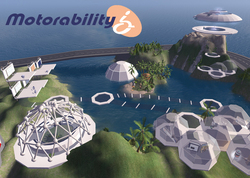 I am so grateful for the opportunity to have been a participant in Pontiac's Motorati Island car culture community development in Second Life during 2007, what an awesome roller coaster learning curve experience. I want to thank Pontiac, Campfire, Leo Burnett and Electric Sheep Company for their tremendous support of all my activities related to United Spinal and AskPatty.com in Second Life
Jackson Heights, NY (PRWEB) February 20, 2008
Pontiac's Motorati Island is getting a second life by making a very generous donation of the the successful 7-region car culture island in Second Life to United Spinal Association, a U.S. based national 501(c)(3) nonprofit headquartered in Jackson Heights, New York. The newly named Motorabilty Island aims to continue catering to the car culture community in Second Life with a twist, by providing an opportunity to empower the 10,000 United Spinal Association members to join Second Life and experience car culture events and activities in this very popular virtual world.
New and experienced Second Life residents will enjoy car culture related virtual events, activities, community building, educational seminars and pure racing fun on the many original venues and race tracks re-opening in early February. Event proceeds, sales of goods and services from commercial enterprise and sponsorships will contribute to raise awareness and provide funding to support United Spinal Association programs in the virtual and real world. Visit Second Life here.
Major sponsor and coordinating efforts by the car culture community on United Spinal's Motorability Island is Jody DeVere (aka Avatar Patty Streeter in Second Life), President of AskPatty.com -- Automotive Advice for Women and a member of the board of directors for United Spinal Association. DeVere's son Joseph was involved in a tragic car accident in 2005 which resulted in paraplegia. This event created a big passion in her to help provide non-traditional recreational and quality of life programs for disabled Americans.
"I am so grateful for the opportunity to have been a participant in Pontiac's Motorati Island car culture community development in Second Life during 2007, what an awesome roller coaster learning curve experience. I want to thank Pontiac, Campfire, Leo Burnett and Electric Sheep Company for their tremendous support of all my activities related to United Spinal and AskPatty.com in Second Life," stated Jody DeVere, President AskPatty.com. "On behalf of United Spinal Association's board of directors, its 10,000 members we are truly grateful to Pontiac and General Motors for the generosity of this wonderful gift to of virtual car culture recreation and will continue to build on the foundation you so generously give for use by future Second Life residents to enjoy."
DeVere held several successful fund raising race events for United Spinal in Second Life on Pontiac's Motorati Island with the help and support of Pontiac and Motorati Island land owners in 2007 and plans to ramp up Motorability Island activities quickly in 2008. DeVere chairs the real life Motorsports Program for UnitedSpinal.org, providing opportunities for persons who drive with hand controls to participate in solo racing clinics during SCCA, ASA and NASA racing events around the county.
The newly named Motorability Island will continue to be home for many of the original attractions, racing and car culture themed events that made Pontiac's Motorati Island so popular with Second Life residents. The island will re-open with SLASCAR Fairgrounds Speedway, Dirt Track Racing, Drift Racing, AskPatty.com, Wonderland Cardin -- A Female Friendly Certified Car Dealership, Parkade Night Club, Callie Cline's Beach Resort, Underground Resistance cruise night and street racing, an Off Road Monster Truck Course and a few new builds that are sure to keep Second Life residents coming back. Visit us in Second Life here}.United Spinal's web presence off Second Life will be supported at the UnitedSpinal.org Second Life portal page in the works which will provide an open window into United Spinal's Second Life efforts as they offer the Second Life experience to their over 40,000 members. Beginning in March, the general public and United Spinal members will be able to join the unique virtual community via the UnitedSpinal.org website, which will link directly to Motorability Island in Second Life. The Motorabilty Island steering committee comprised of Patty Streeter, Amanda Shinji, Osprey Therian, Suku Ming and Toby Rainbow are already planning a big grand opening event to open the web portal to new residents and cut the virtual ribbon on the new United Spinal Motorability Island Welcome Center in April 2008. Visit the web site at http://www.motorability.com.Staying true to the spirit of Second Life, which empowers members to build the community, United Spinal Association is providing parcels of land around Motorbility Island to Second Life entrepreneurs and artists who wish to create their own projects devoted to car culture. United Spinal will review user's proposed projects and lease land parcels accordingly on which users can go forth and develop their own ideas, as they relate, contribute and benefit the Motorability community.The growing popularity of Second Life, created by Linden Lab, presents a unique recreational, educational, marketing and fund raising opportunities for 501(c)(3) nonprofit organizations like UnitedSpinal.org. It's owned and developed by the more than 11 million users that inhabit it, and has a real economy, real social dynamics and the feeling of reality for its residents. The residents of Second Life own virtual land and participate in an online economy. Users pay for items through the use of Linden dollars, the true currency of Second Life, which can be accrued in various ways, including the use of actual credit cards -- which generates approximately $7.6 million a month USD at Second Life.About http//:http://www.unitedspinal.org [United Spinal Association
:
United Spinal Association is a national 501(c)(3) nonprofit membership organization formed in 1946 by paralyzed veterans. Their mission is to improve the quality of life of Americans with spinal cord injuries and disorders (SCI/D). Membership is free and open to all individuals with spinal cord injuries and diseases.
For more than 60 years, they have committed our energy and their talents to improving the lives of individuals with a spinal cord injury or disease. Our initiatives, in promoting inclusion, improving access, fostering independence, enhancing mobility, and demanding equality, along with our commitment to member service, has helped to improve the quality of life and to create opportunities for their members and all people with spinal cord injuries or disorders. http://unitedspinal.org.
About AskPatty.com, Inc.:
The Ask Patty.com, Inc. web site, blog and Second Life venue is a safe place for women to get advice on car purchases, maintenance and other automotive related topics. Women can shop for vehicles at their network of certified female friendly dealerships across the U.S. AskPatty.com is a member and 2008 corporate sponsor of the Women's Automotive Association International based in Detroit, MI, Board Member and Chair of the United Spinal Motorsports program, Member of the California Skills USA board, on the Women's Board of the Car Care Council, a SEMA member and a member of the SEMA Business Women's Networking Group.
Ask Patty Certified Dealer Program:
Properly armed with the right tools and training Ask Patty Female Friendly certified dealers can increase their share of the largest and fastest growing demographic of new vehicle buyers in the U.S. -- Women Consumers. The Ask Patty Certified Dealer program was designed specifically for car dealerships to attract, sell, retain and keep loyal women consumers.
AskPatty.com is partnered with AutoTrader.com, LightSpeedVT, Arkona, Chrome Systems, Inc., Voxant, MyCarPage.com, MyAutoLoan, AWARE, DivineCaroline, SheKnows, LLC. , BlogHer.com, Dealer Centric Solutions, Inc., Chumney Advertising and Cactus Sky Communications, Inc. Visit them at http://www.askpatty.com.
About Pontiac:
Pontiac is a division of General Motors Corporation (NYSE: GM) and markets the G6 Sedan, G6 Coupe, G6 convertible, Solstice, Torrent, Grand Prix, Vibe and the new G8 Sedan, Pontiac sold more than 435,000 vehicles in 2005, ranking third among GM divisions in total sales. More information on Pontiac and its products can be found on the division's web site at and in Spanish at http://www.pontiac.com.
About LBD:
Leo Burnett's Detroit office creates advertising and integrated marketing communications programs for clients including Pontiac, Buick, GMC, GM Service and Parts Operations and GM's Delco Division
About Campfire:
Founded in 2004, New York-based Campfire helps brands rethink marketing through active audience engagement. By employing integrated tactics in the non-traditional, interactive, online and social media categories, Campfire helps put brands in the hands of captivated consumers, building communities of brand loyalists across multiple media platforms. An acclaimed leader in the new marketing space, Campfire has driven award winning campaigns for major brands including: Audi, HP, Levis, Old Spice, Pontiac, USA Networks and Verizon.
United Spinal Association
National Headquarters
Astoria Boulevard
Jackson Heights, NY 11370-1177
Tel 718 803 3782 exts. 283 & 282
Fax 718 803 0414 75-20
Email: publicaffairs @ unitedspinal.org
Visit the Motorability Island web site at: http://www.motorability.com
Visit Second Life here.
###