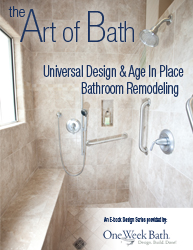 Van Nuys, CA (PRWEB) March 28, 2013
No one needs to tell One Week Bath founder Matt Plaskoff that millions of baby boomers are hitting retirement age. His Southern California specialty construction company receives more than 200 calls a month, many from people wanting to remodel their bathrooms with features that will allow them to stay in their homes as their physical needs and abilities change. His approach to Universal Design or Age in Place is to make the bathroom usable for people of all ages and abilities without sacrificing style or quality. To help answer the demand for information on these specialized design and construction concepts, Matt has provided the source material for a new e-book titled The Art of Bath: Universal Design & Age in Place Bathroom Remodeling.
The e-book is free and available for download here.
As a longtime home builder and lead construction consultant for ABC's Extreme Makeover: Home Edition, Matt saw firsthand what having an attractive and accessible bathroom can mean for a person with physical limitations.
Matt created a unique niche in the construction market in 1999 when he developed the One Week Bath model. While the company does not focus solely on Universal Design and Age in Place construction, they've seen an increase in the number of people interested in these concepts. "We have helped hundreds of people by using Universal Design principles that make the simple everyday functions that most of us take for granted easy for all of our clients regardless of their circumstances," he explains. "It's a very fulfilling aspect of my job."
One Week Bath's all-in-one design and build process involves a consultation with a design specialist who brings a complete showroom of products to each client's home. Once design decisions are finalized, materials are ordered and permits secured. The remodel is then completed in one week. Not having to run from store to store or live in a construction zone for months on end is particularly helpful for those contemplating Universal Design and Aging in Place bathrooms, who may not have the wherewithal to make multiple shopping trips or lose access to their bathroom for an extended period of time.
Each Universal Design project has given the One Week Bath team new insight into creating beautiful bathrooms that work for anyone regardless of age or ability. The Art of Bath: Universal Design & Age in Place Bathroom Remodeling e-book helps demystify the process for baby boomers or anybody interested in a stay-in-place approach to remodeling. Download the free e-book here.