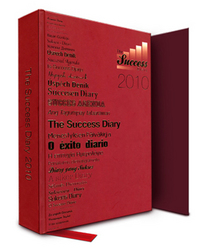 "The Success Diary will become your most treasured asset as it provides every support you need to achieve one big goal after another." Bob Proctor, Author, Professional Speaker, Life Success Coach & The Secret Teacher
(PRWEB) November 9, 2010
PRWEB) November 9, 2010 –The Success Diary®, the recently released success tool by Dr. A.B. Omer, will help anyone recognize that action is a prerequisite to achieving results, which in turn leads to success.
"Many people find it difficult to stay focused their core objectives. Instead they procrastinate or get caught up in seemingly urgent trivial activities, without a clear sense of direction," said Dr. Omer.
Whether one is trying to achieve greater financial success, attain better exam results, lose weight, surpass team sales goals, meet performance objectives, attract a relationship or improve on existing relationships, The Success Diary is the innovative and effective tool to goal setting and realization. The Success Diary® is not a standard diary; it is a ground-breaking success and goal-achieving planner and organizer.
A Pioneering Success Tool:
Whilst many "time-management," "performance-management" and "personal development" books and training courses exist, until now, there has never been a simple tool that enables anyone to achieve results, through inspiration, motivation and an emphasis on activity management.
Equipped with a wealth of experience and knowledge, Dr. Omer has produced a remarkable activity management tool that empowers individuals and organizations to focus on priorities and discard time-wasting activities. The Success Diary, if employed correctly, will enable anyone to adopt a comprehensive approach to managing and organizing daily actions, unequivocally delivering results.
"If you use only a fraction of what Dr. Omer reveals within these pages, you will achieve what you aspire to and ultimately realise success, whether you are an individual or a business. If you want to be more effective, achieve results and become truly successful, use The Success Diary.
The application of the unique combination of profound concepts and practical steps in The Success Diary will move one from surviving to thriving. This success tool will empower anyone to stop going with the flow and experience life as it is meant to be lived … with passion, purpose and freedom. Using The Success Diary as instructed will have a profound and positive effect on any lifestyle.
Use The Success Diary to:

Discover the secret of success
Develop the habits of highly successful people
Align actions with goals
Overcome procrastination
Be more organized
Become more productive
Be inspired and stay motivated
Remain focused
Take control of results
Realise goals
Take action, change your results.
Learn more by visiting http://www.thesuccessdiary.com.
Universal Success is a British Publishing and Consultancy company specializing in the development, production and delivery of "success" based products, services and solutions. Initially launching The Success Diary®, Universal Success has a number of other success products and services in development, each of which will be launched in line with our plan for growth. For more information please visit: http://www.universalsuccess.com
Our Contact details:
Address: 100 Pall Mall, St James, London, SW1Y 5NQ, England, UK
Tel: + 44 (0) 845 475 2755
Fax: + 44 (0) 207 321 3728
Email: info(at)universalsuccess(dot)com
###