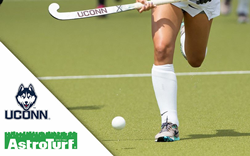 STORRS, Conn. (PRWEB) September 12, 2019
You can't mention the elite programs of field hockey without beginning with the University of Connecticut. The same is true for AstroTurf® when discussing premier playing surfaces for the sport. It's just natural for the two iconic names to team up yet again as the Huskies have installed a new field hockey turf system at the George J. Sherman Family-Sports Complex.
UCONN Field Hockey has one of the most accomplished field hockey programs in the country with 16 Big East Conference titles, 15 Final Fours, 2 National Runner-ups, and 5 National Championships. Even more impressive are their 3 National titles in the last 6 years. For a program with this type of continual success, it is important to keep all of the elements of the formula at the same high level, and the field is no exception. This is a big reason why the Huskies chose to go with AstroTurf® once again.
The field itself is a world class Poligras Platinum system. Poligras Platinum is a complex, high-tech, tufted system. This surface utilizes non-directional, polyethylene sports yarn to provide optimum ball surface interaction. This system is the same as the one used at the last Olympics in Rio. Actually, under the Sport Group umbrella, AstroTurf & Polytan collectively has been the surface for 75% of the Olympic Field Hockey games.
The system sits over a 10mm E-Layer® that was installed by Nagle Athletic surfaces. The E-Layer® is a paved-in-place monolithic pad that has excellent shock absorbency and is totally solid underfoot. Nagle is a premier installer having achieved a reputation for providing unparalleled quality, outstanding service and exceptional value to their customers.
UCONN's legendary coach had some kind words about the system and the workmanship. "We're really excited about this product from AstroTurf®. It is called Poligras and it was used in the 2016 Olympic Games in Rio", said Nancy Stevens, UCONN Head Field Hockey Coach. "They got the field done in about a month which is a tribute to the team that put it in. They are hard workers and they did a beautiful job."
Coach Stevens is considered field hockey royalty in her own right with the most wins of any field hockey coach in D1 history with 572.
AstroTurf General Manager, Dave Wheaton added, "This is our top of the line, world-class field hockey system and it provides the highest level of performance and playability that is available in the market today."
While AstroTurf does enjoy almost 80% of the Division 1 market and is the choice of organizations at the highest level of the game, it still offers high-performing field hockey surfaces to meet every need and budget.
AstroTurf fields have long been regarded as the unequivocal standard for field hockey performance and are the favorite among coaches and players alike for their playability, durability and low maintenance requirements. It's no wonder AstroTurf is recognized as the Official Artificial Surface Provider of both USA Field Hockey and the National Field Hockey Coaches Association, as well as a preferred supplier for FIH. By supporting FIH, USA Field Hockey, and the National Field Hockey Coaches Association for years, AstroTurf has demonstrated time and again its commitment to growing the game and providing access to more high-quality pitches at all levels of the sport.
About AstroTurf®
For athletes and sport enthusiasts, AstroTurf® has redefined the way the game is played. The brand offers advanced, state-of-the-art, multi-sport and specialized synthetic turf systems with proprietary engineered technologies. A growing number of high schools, colleges, professional sports teams and municipalities continue to select AstroTurf-branded products for their premium quality, technical superiority, and safety. To learn more, visit AstroTurf's newly redesigned website at http://www.astroturf.com.