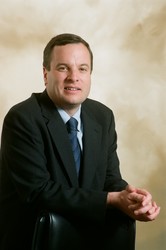 Ferndale, WA (Vocus) March 12, 2009
The Vice-Chancellor of the University of London, Sir Graeme Davies, today announced the appointment of Andrew Bollington as Chief Operating Officer for the University of London External System.
"I am delighted that Andrew Bollington, currently Regional Director for the International Baccalaureate, will be taking on this important role. It carries responsibilities which include leadership of operational service delivery to 45,000 students in 180 countries across the world. His responsibilities will also include finance and staffing issues. I am confident that his experience in developing education at an international level will enormously benefit the External System, which has been operating as a world leader in its field for more than 150 years", said Sir Graeme Davies.
The aims of the University of London External System are clear - to provide access to quality education for all and promote innovation in flexible and distance learning, whilst ensuring student needs continue to remain a priority for the External System in its day to day delivery and future development.
"As Chief Operating Officer, Mr Bollington will work to support the first Dean of the External System, Professor Jonathan Kydd, in ensuring that these aims continue to be met. Andrew Bollington's strong background in IT and experience in the operational aspects of transnational education were features which led us to select him for this key role," added Sir Graeme.
Mr Bollington, currently employed by the International Baccalaureate Organization as its Regional Director for Africa, Europe and the Middle East, will replace Mr John McConnell, who leaves the University after 25 years where he has led the External System through a significant period of growth.
Mr Bollington said: "Education is a transforming experience - and the External System has a remarkable 150 year track-record of transforming the lives of students through high quality education offered around the world. It's a privilege to be joining such a committed and experienced team and to have this opportunity to build on its remarkable strength and ensure that it continues to benefit not only the students, but the countries they come from".
Mr Bollington will formally take up his post on 1st June 2009.
Notes for editors
Andrew Bollington

Andrew Bollington graduated in Computing Science from Aston University and has a Masters in Business Administration from the Henley Business School, UK.
Andrew Bollington has extensive experience as a senior manager with a successful track record in the international education sector. He has held the posts of ICT Director, Strategic Planning Director and Regional Director for the International Baccalaureate.
His experience includes the management of both design and implementation of an electronic student registration and results system with a multi-lingual web based platform used in more than 90 countries. He also has extensive experience in developing service initiatives including global customer satisfaction surveys and service definitions.
He is a Chartered Engineer and Chartered IT Professional.
The University of London External System
The University of London was established in 1836 and is one of the oldest, largest and most diverse universities in the United Kingdom.
The University's founding principle is to provide education for all, irrespective of race, creed or political belief.
In 1858, the University of London was granted its fourth Charter, which paved the way for the establishment of the University of London External System.
The University of London External System is a unique global network of 45,000 students in 180 countries, on more than 100 study programmes.
The External System has been instrumental in the formation of British higher education - all English and Welsh universities founded between 1849 and 1949 offered University of London degrees before obtaining Royal Charters to award their own degrees.
Between 1946-1970, the External System played a significant role in establishing many Commonwealth universities under a unique scheme of 'special relations'.
Through the External System higher education was made available to a much wider range of social classes; it pre-empted 20th Century developments in open, flexible and distance learning by more than 100 years.
Famous former students and alumni of the External System include six Nobel Prize Winners: Sir Frederick Gowland Hopkins, Professor Ronald Coase, Wole Soyinka, Derek Walcott, ex-President Nelson Mandela and joint winner Dr Rolph Payet.
For further information: http://www.londonexternal.ac.uk
For further information contact:
Binda Rai
Head of Global Media and PR
University of London External System
Tel: +44 (0) 20 7862 8545 (office)
07920 476483 (mobile)
Peter Quinn
Senior Communications Manager
Tel: +44 (0)20 7664 5584 (office)
# # #