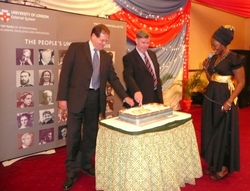 It is an opportunity to celebrate the mutual success that has been achieved by the University of London External System and its many Nigerian students, who have not only benefited personally but have made their mark, nationally and internationally
(Vocus) February 26, 2008
The band played into the night as people in Lagos turned out to celebrate the 150th Anniversary of the University of London External System.
Lagos was chosen by the University of London External System, as one of four centres around the world in which to hold its launch events to celebrate its 150th Anniversary. Others were held in Hong Kong, London and Delhi during January this year.
The event organised in conjunction with the British Council in Nigeria was held on Friday 15 February, at the Sheraton Hotel. Speaking at the celebratory launch, Sir Graeme Davies, Vice-Chancellor of the University of London, said: "We are delighted to be here. We have always had a special relationship with Nigeria, which dates back to 1948, when through a 'special relations' scheme, the University of London was involved in helping to set up University College Ibadan. Although in 1962 it became an independent degree-granting body in its own right, up until then all its students studied for the University of London degree through the External System."
Today, the University of London External System is a world leader in transnational education with 41,000 students studying on more than 100 study programmes in 180 countries. Amongst its most famous students and alumni are five Nobel Prize winners, including Nelson Mandela and the Nigerian writer, Wole Soyinka, who in 1986 became the first person of African descent to win the Nobel Prize for Literature.
Other notable Nigerian authors include Chinua Achebe, who studied English, History and Theology at University College Ibadan. In 1958 Chinua Achebe went on to publish his most celebrated novel Things Fall Apart, which has been translated into 50 languages, making him the most translated African writer of all time.
Both Wole Soyinka and Chinua Achebe are featured in the Nigerian section of the 150th Anniversary book published by the University of London External System entitled The People's University 1858 – 2008.
Richard Powell, the British Deputy High Commissioner to Nigeria, said he too was pleased that the University of London had chosen to celebrate in Nigeria. "It is an opportunity to celebrate the mutual success that has been achieved by the University of London External System and its many Nigerian students, who have not only benefited personally but have made their mark, nationally and internationally," added Mr Powell.
Notes for Editors:
Picture caption:
From left to right: Professor Jonathan Kydd, Dean, University of London External System; Sir Graeme Davies, Vice-Chancellor, University of London; Ojama Ochai, Connected Africa Arts Project Manager with the British Council, Nigeria.
The University of London

The University of London was established in 1836 and is one of the oldest, largest and most diverse universities in the United Kingdom.
The University's founding principle is to provide education for all, irrespective of race, creed or political belief.
In 1858, the University of London was granted its fourth charter, which paved the way for the establishment of the University of London External System.
The University of London External System is a unique global network of 41,000 students in 180 countries, on more than 100 study programmes ranging from social sciences to law to health.
The External System has been instrumental in the formation of British higher education – all English and Welsh universities founded between 1849-1949 offered University of London degrees before obtaining charters to award their own.
Between 1946-1970, the External System played a significant role in establishing many Commonwealth universities under a unique scheme of 'special relations'.
Through the External System higher education was made available to a much wider range of social classes; it pre-empted 20th Century developments in open, flexible and distance learning by more than 100 years.
Famous former students and alumni of the External System include five Nobel Prize Winners: Sir Frederick Gowland Hopkins, Ronald Coase, Wole Soyinka, Derek Walcott and Nelson Mandela.
Further information is available on http://www.londonexternal.ac.uk/150
For further information please contact:
Binda Rai
Head of Global Media and Public Relations
University of London External System
Email: binda.rai@london.ac.uk
Tel: +44 (0) 20 7862 8545 (office)
+44 (0)7920 476483 (mobile)
Peter Quinn
Senior Communications Manager
University of London External System
Email: peter.quinn@london.ac.uk
Tel: +44 (0)20 7664 5584 (office)
###