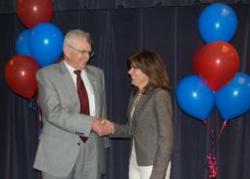 This expanded collaboration with the University of Arizona will help us meet state and national goals of increased transfer and graduation rates.
Dr. Rufus Glasper, Chancellor of the Maricopa Community Colleges
Tempe, AZ (PRWEB) March 31, 2012
Leaders of the Maricopa Community Colleges and the University of Arizona have signed an agreement that will allow the two institutions to collaborate on programs that will allow Maricopa students to more easily transfer to UA.
Dr. Eugene Sander, UA President, and Dr. Maria Harper-Marinick, Executive Vice Chancellor and Provost of the Maricopa Community Colleges, signed a memorandum of agreement during the March 28 ceremony at Paradise Valley Community College. Dr. Harper-Marinick represented Dr. Rufus Glasper, Maricopa's Chancellor, who was unable to attend.
A key component of the enhanced collaboration is provision of meaningful incentives for students who complete an Arizona Transfer Admissions Pathway, which will be called AzTAP.
This articulated associate degree-to-bachelor's degree pathway will provide specific student benefits:
*Guaranteed admission into selected UA undergraduate degree programs for MCCCD students who complete the requirements of a specific AzTAP;
*Pre-transfer admissions counseling; and
*Eligibility for the joint admission program, which includes renewable scholarships for eligible students.
The agreement also includes specific requirements of students who want to complete an AzTAP and lists the obligations of both institutions in order to create a successful collaboration.
"This expanded collaboration with the University of Arizona will help us meet state and national goals of increased transfer and graduation rates," Dr. Glasper said. "Creating transfer partnerships that make it easier for students to advance to the university program of their choice is an important part of our mission,"
"We are pleased to join MCCCD in increasing access to higher education, improving the student experience at both institutions, and increasing the number of students who complete associate's and bachelor's degrees in Arizona," said Sander.
The UA is one of the nation's leading public universities, with a long history of academic excellence, research innovation and a student-centered approach. A member of the prestigious Association of American Universities, the UA is ranked 18th among public universities by the National Science Foundation with total research expenditures of more than $600 million. With more than 39,000 students, the UA is on the forefront of discoveries – from the depths of space to the medical and genetic mysteries of life, from emerging trends in climate change to the broad complexities of the human condition.
The Maricopa County Community College District is one of the largest community college districts in the nation.
It includes 10 regionally accredited colleges – Chandler-Gilbert Community College, Estrella Mountain Community College, GateWay Community College, Glendale Community College, Mesa Community College, Paradise Valley Community College, Phoenix College, Rio Salado College, Scottsdale Community College and South Mountain Community College. The District also includes the Maricopa Skill Center, Southwest Skill Center, several satellite campuses and business/industry; technical and customized training institutes.