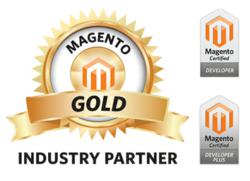 We have a long history in Magento ecommerce development and we value that partnership.
Denver, CO (PRWEB) November 08, 2012
Magento, the world's leading ecommerce/online merchant software, delisted more than 100 solution partners from its website in October, leaving Unleaded Software Inc., DBA Unleaded Group, as the only Gold Level Partner in the Rocky Mountain region, and one of only 48 such firms in the world. Magento tightened its requirements for certified Solutions Partners in early 2012, establishing rigorous certification testing for developers and programmers skilled in building Magento ecommerce websites in order to remain listed on MagentoCommerce.com.
Headquartered in Denver, Colorado, Unleaded Group participated in beta testing of the inaugural Magento program as early as 2007, becoming one of the first Magento partners for the platform owned by eBay since 2011, a purchase reflecting the platform's influential market position. From its location in the Ballpark District of Denver, Unleaded employs 32 team members in Denver and operates two satellite production offices in Seville, Spain and Ahmedebad, India.
Four of Unleaded's own in-house dev team members have earned the prestigious title "Magento Certified Developer," including Ian Kullhem, Eric Hainer and Justin OConnell. A fourth, Brian Lee, scored the highest Magento classification possible of "Magento Certified Developer Plus." Unleaded has built more than 200 Magento ecommerce websites for online merchants from boutique startups to Fortune 500 enterprises with new commitments in the queue joining the company's portfolio at a record pace.
Magento Solution Partners now number 281 worldwide, down from a peak of 386 before the new certification requirements were imposed in September. Magento is the ecommerce architecture for more than 125,000 online stores worldwide, and boasts an estimated 23% share of the ecommerce software marketplace, almost double the next highest contender.
At base, Magento is an open-source ecommerce solution called "Community Edition" meant for entry-level online stores who want functionality that allows them to grow and scale upward as sales and revenues increase. The Magento Enterprise edition is a premier solution with an annual license fee that has been adopted by thousands of the world's leading online merchants and brands. This powerhouse edition of Magento provides seamless functionality for stores with SKUs from the tens of thousands to a million plus.
Jarod Clark, Unleaded president, stated, "We have a long history in Magento ecommerce development and we value that partnership. We are quite proud to have met the certification requirements and to have four of our in-house team own this level of Magento knowledge means that we are equipped to build Magento stores faster and better, on time and on budget. Our repertoire of Magento sites covers every industry and market sector. Magento's partner certification process has challenged the industry as a whole to strive for greatness. We've proven that in an industry that doesn't stop for anyone, we are leaders. "
ABOUT MAGENTO eCOMMERCE PLATFORM FOR GROWTH
Magento is a feature-rich, professional open-source eCommerce solution that offers merchants complete flexibility and control over the look, content, and functionality of their online store. Magento's intuitive administration interface contains powerful marketing, search engine optimization and catalog-management tools to give merchants the power to create sites that are tailored to their unique business needs. Designed to be completely scalable and backed by an extensive support network, Magento offers companies the ultimate eCommerce solution.
ABOUT UNLEADED GROUP
The Unleaded Group was founded in 1996 as Unleaded Software and has designed and developed more than 500 ecommerce, corporate and organization websites covering the gamut of industries and endeavors. With a staff of more than 35 people worldwide – 15 in development and programming – Unleaded Group also delivers services in SEO (search engine optimization), branding, graphic design, marketing, public relations, video and advertising.