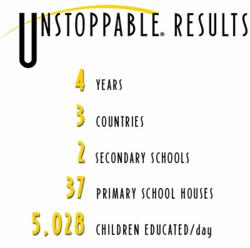 Change is happening because we are coming together.
Beverly Hills, CA (PRWEB) March 16, 2013
Cynthia Kersey, Founder of the Unstoppable Foundation is proud to announce the 4th annual gala to be held today at the Beverly Wilshire Hotel. The Unstoppable Foundation is a non-profit organization that works with partners to deliver a holistic approach to educating children in developing countries.
The gala honorary chairs include Bob Proctor, Jack Canfield and Reverend Michael Beckwith. Bob Proctor is one of the most sought-after speakers in the world for professional coaching and company seminars and a teacher in the wildly popular film, The Secret. Proctor is considered one of the living masters and teachers of the Law of Attraction. Jack Canfield, known as the beloved originator of the Chicken Soup for the Soul series, has personally taught millions of individuals his unique and modernized formulas for success and personal fulfillment and is a widely recognized leader in peak performance strategies. Reverend Michael Beckwith is the originator of the Life Visioning Process, which he teaches throughout the country along with meditation, scientific prayer, and the spiritual benefits of selfless service. Dr. Michael Beckwith's life is a living testament to building spiritual community.
Another special guest attending the gala is one of Oprah Winfrey's all-time favorite guests, Dr. Tererai Trent, a Zimbabwean-American woman whose unlikely educational success has brought her international fame. Dr. Tererai Trent is a scholar, a powerful motivator, but most importantly, a humanitarian. She grew up in an impoverished village of Zimbabwe, but she never let her impossible circumstances stand in the way of working to achieve her goals.
All of these special guests are coming together to show their support for the Unstoppable Foundation. Just four short years ago, the Unstoppable Foundation started serving children who were destined to live a voiceless, nameless existence in some of the poorest communities in Africa. They were at risk of death through water-borne illnesses, early pregnancy, malaria and AIDS.
Today, kids are thriving, getting top grades and learning not only how to read and write, but how to stay healthy by growing organic vegetables and using safe sanitation practices, as well as how to protect themselves from HIV/AIDS. Parents are learning new ways to generate an income, which enables them to keep their children in school. Entire families are now full of hope and excited about the future.
To buy tickets for the Unstoppable Foundation 4th Annual Gala please visit http://www.unstoppablefoundation.org/gala2013
About the Unstoppable Foundation
In 2011, groundbreaking author and founder of the Unstoppable Foundation, Cynthia Kersey, went on an inspiring journey to Kenya. Kersey was visiting to see the progress of the schools that Unstoppable Foundation played a role in funding in rural Maasai Mara region of Kenya, including an all-girls boarding secondary school, named Kisaruni, or "Land of Peace." With a mission to empower youth through education, the Unstoppable Foundation has already made tremendous investments in primary level education through its international charitable partner, Free The Children.
In the foundation's first three years, the Unstoppable Foundation has funded 26 schoolhouses in three African nations and provided partial funding for a secondary school for girls. This vital education will empower a total of 71,960 children over the next 20 years with the life-long gift of an education and a real future. In addition, the Unstoppable Foundation has given six communities access to clean, healthcare and income training for the parents so that the education model is sustainable.
Through the partnership of outstanding in-country partners, the Unstoppable Foundation supports the Adopt a Village development model which fosters ownership of the project by community members – partnering with them to provide education and sustainable solutions to help them lift themselves out of poverty. It's not charity but community empowerment and sustainability in the truest sense.
Cynthia Kersey
888-867-8677
Cynthia(at)Unstoppable(dot)net
http://www.UnStoppableFoundation.org
"The H.O.M.E. Foundation is Proud to Support The UnStoppable Foundation"
About The H.O.M.E. Foundation:
The Helping Others Means Everything, or The H.O.M.E. Foundation, is a not-for-profit organization dedicated to helping our Family of Charities. Frankie Verdugo, President of The HOME Foundation, wants to help as many worthy charities as possible as they struggle during these tough economic times. Frankie Verdugo helps raise funds through luxury dream home raffles, home giveaways, prizes, and high profile celebrity events in Hollywood... "Our mission is to help charities reach their fundraising goals and to bring awareness to their praiseworthy causes."