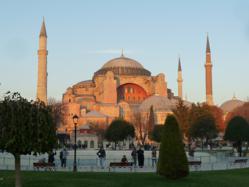 Local Untours staffers help guests navigate the city as well as explore its rich history.
Media, PA (PRWEB) March 20, 2013
In April 2013, Untours will welcome their new Istanbul vacation package, the Istanbul Untour. "It is an exciting new destination for us," says Brian Taussig-Lux, Untours General Manager. "Istanbul strikes the perfect balance of exotic and safe, exciting but easy to navigate."
The new program was announced at the end of January, and early sales have been brisk. "I am thrilled with our early response," says Cathrin Baumbach, one of the program's coordinators. "Clearly there was a lot of pent up demand, both from our regular clients and new ones."
This huge response supports the beliefs of Fodor's and The New York Times that Istanbul is one of the top 25 places to go in 2013.
"Our clients asked for Istanbul," says Taussig-Lux. "And now they are responding! We were delighted to see bookings even before the program was officially announced on our website."
The Istanbul vacation package includes a week or two in a hand-selected, staff-inspected apartment in the city, with central locations in the ancient Sultanahmet district and the trendy Galata neighborhood. "We loved the fantastic street life, churches and restaurants in the area near the Galata Tower," says Baumbach. "But we knew we also wanted to offer something in the old city. Staying in Sultanahmet, you can walk to the Blue Mosque and Hagia Sofia. You hear the call to prayer and live within the dramatic skyline of mosques and minarets."
Untours staff meets guests on the Istanbul Untour upon their arrival at the airport. The Istanbul vacation package includes airport transfers and an Istanbul transit card. As with other Untour packages, the Untour in Istanbul allows guests to plan their own daily activities while giving them thorough local information, a cell phone to use on site, and the assistance of knowledgeable hosts.
Local Untours staffers help guests on the Istanbul Untour settle into the city and present an informational seminar the morning after their arrival. This covers the city's transportation system, an overview of city sights, helpful pointers on safety, and useful information and background on the culture itself. "Our staff people, Hale and Levent, are top notch," says Andi Cancelliere, another of the program's coordinators. "When I met Hale for the first time, I felt I was reconnecting with an old friend."
"Istanbul is a perfect marriage of old and new cultures," explains Taussig-Lux. "All of our apartments have Wi-Fi and are newly renovated, with high end amenities. But to settle contracts for them, we had to spend a lot of time sitting with owners, face to face, drinking tea and talking."
On the Istanbul vacation package, local Untours staff members focus their time not only on explaining practical matters, but translating more meaningful aspects of the culture. Beyond presenting Istanbul's sophisticated tourist infrastructure, they share insight into the city's rich Islamic tradition and deep rooted history. "On a guided tour of the Hagia Sofia or a cruise on the Bosphorus, they will help translate some of the most fascinating and compelling aspects of Turkish history and culture," explains Taussig-Lux.
Untours has offered apartment-based, cultural immersion vacations since 1975, with programs all over Europe as well as in Quebec City and Buenos Aires. Visit untours.com for full offerings and for more details on the new Istanbul vacation package. Better yet, see Arthur Frommer's coverage of the new program.