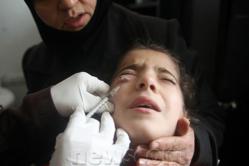 washington, DC (PRWEB) April 09, 2013
UOSSM calls on the World Health organization (WHO) and the international medical agencies to assist the local health care providers and public health centers inside Syria and on the Turkish border in treating the escalating number of leishmania in Northern Syria, and to support the local health centers in their efforts to control the spread of the disease. According to Today's Zaman,"Approximately 100,000 people have been infected with the leishmaniasis in the past two years after civil war broke out in Syria, compared with before the conflict when the number of cases in Syria had been reduced to 3,000-4,000."
The increase in the number of cases of Leishmania in Turkey, impose an additional dimension to the crisis, making the outbreak on the verge of being regional public health crisis "The increase in the number of patients suffering from the disease is alarming not only for Syria but for Turkey as well since leishmaniasis has also reached Turkey."
http://www.todayszaman.com/news-310925-leishmaniasis-outbreak-rings-alarm-bells-at-turkish-syrian-border.html
According to WHO, Leishmaniasis is a poverty-related disease, and is associated with malnutrition, displacement, poor housing, illiteracy, gender discrimination, weakness of the immune system and lack of resources. Leishmaniasis is also linked to environmental changes.
http://www.who.int/leishmaniasis/burden/magnitude/burden_magnitude/en/index.html
Mr. Daher zidan, pharmacist and project manager in UOSSM, has been working on the collecting and analyzing data, said, "The sharp increase in the number of reported cases of Leishmania in Aleppo and Idlib provinces, denotes the re-emerging of the disease, that is directly linked to the extensive annihilation of public health infrastructure, and the abandonment of Syrian local authorities from municipal maintenance and services." Added that, "The majority of those cases were reported in areas that are heavily affected by the conflict, and areas with high poverty and inaccessibility to good sanitation, due to water shortage and garbage build up that amplifies the growth of the sand fly." Mr. Zidan briefly stated the major recommendation to control the spread Leishmania, " As transmission involve the sand fly bites to human and injection of the protozoal parasite, this makes our major priority is elimination this fly, in addition to implementing other preventive and control measure. This is beside an extensive treatment and creation of specialized centers to control Leishmania."
The UOSSM has initiated a well-organized program directed to treat the old and new cases of Leishmania, and coordinate the local municipal services for better spray and application of insecticide to get rid of the sand fly. The UOSSM's estimated that the budget needed to treat and control Leishmania is about $ 180,000, and urges the WHO and International medical and humanitarian organizations to contribute, in order to eradicate Leishmania from the region.
UOSSM views the Leishmania outbreak as regional public health crisis that necessitates collaborative efforts between local and international public health providers.
The UOSSM is a coalition of humanitarian, non-governmental, and independent organizations, created following the deadly events in Syria, to provide medical and humanitarian aid to Syrians. UOSSM was established by 14 medical and relief organizations, and includes hundreds of physicians of mainly Syrian origins distributed in the United States, Canada, in Europe and in different Arab countries.