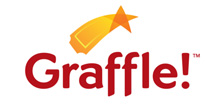 "USG has a proven track record of managing the franchise process from presentation preparation - to presentations - to negotiations - to closure in a professional way that ensures all of the details including legal are covered."
Matthew Alexander, CEO
Scottsdale, AZ (PRWEB) April 28, 2013
In order to launch their franchise business operations, create franchise development deliverables and expand their franchise base across United States and internationally, Graffle has announced the partnership with Upside Group Franchise Consulting.
According to Graffle CEO, Matthew Alexander:
"USG has a proven track record of managing the franchise process from presentation preparation - to presentations - to negotiations - to closure in a professional way that ensures all of the details including legal are covered."
Graffle is a profound hybrid modernization of the classic raffle ticket and sweepstakes known to all cultures around the world. By harnessing the power of modern technology, combining it with cutting edge marketing and social media, along with already establish loyal followers, Graffle is able to exponentially drive revenues for its charities and partners. Graffle is a brand that grows organically and authentically, through the passion of its participants. It compels involvement by tapping into the fundamental human urge to contribute to something bigger, and touches people via earned media, shared content, viral communities and thought leadership on innovative giving.
Graffle will be building strategic partnerships with leading brands to activate their campaigns through leveraging Graffle's mass-scale fund raising platform. Graffle is in the process of expanding business internationally by extending their consumer reach and offering franchise opportunities worldwide.
Upside Group Franchise Consulting is a full service, boutique franchise consulting firm with offices across the country. They have a handpicked, professional staff with decades of franchise experience from all disciplines of the franchise industry. Upside Group Franchise Consulting offers their clients a full suite of franchise services including innovative franchise marketing programs, outsourced franchise sales, franchise sales training, franchise lead screening, franchise manuals, franchise marketing collateral, and award winning web design. Headquartered in Scottsdale, Arizona, Upside Group Franchise Consulting regularly speaks at International Franchise Association events and the American Bar Association, serve as contributing writers for several franchise industry publications and have instructed at Nova University, the nation's leading institution for higher education in the franchise industry.
To learn more, please visit: http://www.upsidefranchiseconsulting.com.