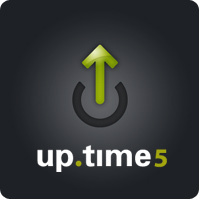 up.time 5 represents our commitment to customers by delivering high quality tooling that seamlessly supports both physical and virtual infrastructures. This provides IT Managers and System Administrators with a 'Single Pane of Glass' with which to view their entire IT infrastructure
Toronto, Canada (PRWEB) June 4, 2008
Today, uptime software made affordable enterprise-wide cross domain, cross environment system monitoring and capacity management a reality with the immediate availability of up.time 5. This new release from uptime software adds capabilities including Service Level Agreement (SLA) management that tracks and proves IT delivery quality, new advanced Virtualization management for VMware and AIX environments, as well as a fully integrated Application Transaction Monitoring (ATM) system to help system administrators proactively monitor their enterprise applications. uptime software, creator of up.time, is a premier provider of powerful and reliable IT systems management technology for the Global Fortune 1000. A risk-free enterprise 30-day trial of up.time 5 with support included is available at uptime software.
"One shouldn't have to acquire a whole new set of tools to manage today's IT challenges brought on by Virtualization," says Sean O'Neil, COO of uptime software. "up.time 5 represents our commitment to customers by delivering high quality tooling that seamlessly supports both physical and virtual infrastructures. This provides IT Managers and System Administrators with a 'Single Pane of Glass' with which to view their entire IT infrastructure," explains O'Neil. "up.time 5 also provides IT management with simple ways to measure and report IT success from a business perspective. In fact, up.time SLA capabilities are an excellent first step toward proactive IT-business alignment, which is something our customers are clearly looking for. We provide this solution at a fraction of the cost of competitors and that makes our customers very happy with the value they find in up.time."
New Features in up.time 5 include:
New Service Level Agreement Management and Monitoring:

Deploy Service Level Agreements in days.
Track and measure key process indicators that the line of business considers important.
Directly map IT infrastructure availability and performance to business success.
Create "business centric" SLA success reports to prove IT delivery achievement.
Advanced Virtualization Capabilities:

Control Virtual sprawl with Automatic Discovery and Tracking of Motioning Instances
Deep and granular ESX, VM, and workload metrics and measurement capabilities leading to better VM performance and density.
Support for AIX 6 and POWER 6 virtualized environments.
Cost friendly "physical-server" licensing.
Application Transaction Monitoring:

Record custom Web-based synthetic transactions to emulate end-user experience.
Playback, Measure and Alert on Web Application response time degradation challenges before they impact end-users.
Track email system availability and performance.
up.time customers continue to rave about how up.time helps them get results quickly.
"We looked at a stack of solutions, including the larger tier vendors, but the timelines to deployment and costs were unreasonable. up.time really stood out as a quick deployment and quick results software solution. I would absolutely recommend up.time. I couldn't be happier with it," explains an up.time customer at a logistics company with over $7 Billion in revenues.
Platforms Supported
up.time is a multi-platform solution that monitors across the entire stack, including Solaris, AIX, HP/UX, Windows, Linux, VMware, Novell and an array of other network devices, all easily accessible from the comfort of your browser. up.time installs in less than 15 minutes and provides detailed performance and availability metrics, including monitors for Exchange, Active Directory, SQL Server, IIS, and many more. Reports, graphs, and alerts detect problems before they affect end-users or impact service levels.
About uptime software
uptime software inc. is a privately held corporation founded in 2000 and headquartered in Toronto, Canada. uptime software is the creator of "up.time™": IT systems management, server monitoring and capacity planning software for the Fortune 1000 marketplace that's powerful, easy-to-use, and helps organizations eliminate unnecessary IT outages, increases service availability, and reduces the cost of systems management on an annual basis.
uptime software's rapidly growing customer base is truly international, with over 600 clients in 32 countries, including Canada, U.S.A., Europe, Latin America, the Caribbean, the Asia-Pacific region, and Africa. They include well-known national and international companies from a wide variety of industries. To see a list of some of uptime's clients, please visit the uptime software website.
###