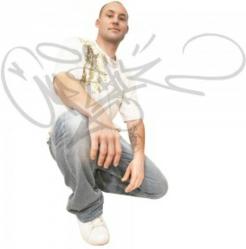 I realized that I wanted to be different in my body paintings and stand out from the masses.
Bristol (PRWEB UK) 14 March 2013
Come witness the evolution of graffiti as Mr. Shiz debuts his prolific visual art at a solo show. This extraordinary French graffiti artist will exhibit original works of body art, which displays a fresh perspective of hip hop culture through a thought provoking lens. With ingenuity, Mr. Shiz has the adept ability to create fantasy worlds with paint and surreal human reproductions. His mesmerising head sculptures have earned him the alias of "Urban Picasso" and recognition from his fellow graffiti artists.
His passion for painting ignited at the early age of 15, it was then that this artistic genius decided to break the bonds of traditional portraits with an airbrush and spray cans, delving into the land of photo realism.
A professional artist for nearly ten years, Mr. Shiz has created mind blowing art work for individuals and companies such as R & B star Usher, Perrier, Cadbury and Ed Hardy. The urban Picasso, Mr. Shiz shares his vision candidly, "I realized that I wanted to be different in my body paintings and stand out from the masses, I thought, what could compliment the paintings I did on models? Hide their faces was the answer. It's the contrast that sums up what my art is all about, and there is definitely a contrast with hiding a pretty girl's face instead of showing it."
From Snake Head which features a modern day Eve in a green oasis to TV Head which invites you into the glitz and glam of the spotlight to Chocolate Head which features a human chocolate bar, Mr. Shiz is definitely getting his point across. He is living outside of the box and his unique body art is making its way to canvas and prints.
Come experience Mr. Shiz's amazing art pieces at the Weapon of Choice Gallery, 8b Park St, Bristol BS1 5HR. The exhibition opens Friday 15, March, 6 – 10 pm and runs until Saturday 7th April.
To see Mr. Shiz in action, go to Kings Cross Media's YouTube channel to watch the "Pimp My Ride by Urban Picasso" video and call 0-117-929-1865 for more information about Bristol's Weapon of Choice art gallery.