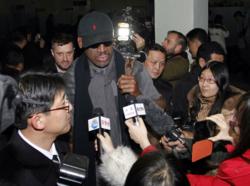 . . . the Rodman and Eric Schmidt/Google trips have thrust the DPRK into the national conversation.
New York, NY (PRWEB) March 05, 2013
Uri Tours Inc., a U.S. provider of travel services to North Korea, provided basic ticketing services and logistics consulting for Dennis Rodman and Vice Media in their recently publicized trip to North Korea. Uri Tours routinely provides similar services for its corporate clients and also operates tours in North Korea for both the private and everyday travelers.
Andrea Lee, CEO of Uri Tours, said "Historically, people haven't realized that they can travel to the DPRK. However, the Rodman and Eric Schmidt/Google trips have thrust the DPRK into the national conversation. We were lucky enough to play significant, if modest, roles in both of these trips."
She added, "Getting to North Korea as a tourist is actually quite easy. Uri Tours will secure your visa, arrange your accommodations, and book your travel into the country. All our customers have to do is meet us in Beijing."
When asked about some of the controversy surrounding trips like Mr. Rodman's, Ms. Lee responded: "Travel to the DPRK necessarily involves controversial issues. Our stance on tourism is that people should take the opportunity to see for themselves. We believe that cultural contact through tourism is a net positive for both the DPRK and the West."
ABOUT URI TOURS: Uri Tours is a U.S. based provider of North Korea travel services. The company offers tours to North Korea and is the sole ticketing agent in the Americas for Air Koryo, the national airline of North Korea. The company also provides travel services in China and South Korea. Clients of the company include The School of International and Public Affairs at Columbia University, The Pacific Council on International Policy, The Associated Press, Global Exchange and others. In addition, Uri Tours provided travel services for the recent high profile trips by Eric Schmidt and Dennis Rodman.