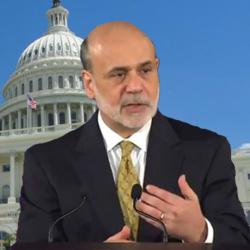 The pendulum has swung too far the other way, and that overly tight lending standards may now be preventing creditworthy borrowers from buying homes, thereby slowing the revival in housing and impeding the economic recovery. ~ Chairman Ben Bernanke
Minneapolis, MN (PRWEB) November 16, 2012
The housing sector is improving, adding growth and jobs that give strength and sustainability to the U.S recovery as a whole, according to comments from Ben Bernanke made yesterday at a speech in Atlanta Georgia. Bookended by a great deal of caution about the progress of the U.S. economic recovery, it was clear that housing and home builders are significant to helping the economy.
Destiny Home's owner Butch Sprenger commented, "He spoke positively about the housing market, yet realistically about the 'Challenges in Housing', the need for new construction, a growing demand for homes, fostering responsible homeownership, and the effects of tight lending. As home builders, we are preparing for a busy 2013".
Bernanke said, "It is encouraging that we are seeing signs of improvement in the housing market in most parts of the country. House prices nationally have increased for nine consecutive months, residential investment has risen about 15 percent from its low point, and sales of both new and existing homes have edged up. The growing demand for homes has been underpinned by record levels of affordability, the result of historically low mortgage rates and house prices that are 30 percent or more below their peaks in many areas".
"Homebuilder sentiment has improved considerably over the past year, and real estate agents report a substantial rise in homebuyer traffic," Bernanke credited home builders. He noted that an increased demand by home buyers in turn leads to faster economic growth and more jobs. "My colleagues and I have been and remain quite concerned about the stubbornly high level of unemployment - particularly long-term unemployment," he said.
Bernanke stressed that advice from a housing counselor at the right point in the home purchasing process can make all the difference in giving households a better chance to build home equity. Nonprofit organizations can help prospective homeowners assess the housing market and how it could best work for them to be homeowners by:

knowing what is necessary to purchase or build a home
providing useful information about how to search for a home
help apply for financing to buy, build or remodel a home
training on how to handle home maintenance, repairs and renovations
prevent delinquency through effective budgeting, adequate saving, and sensible home investing
helping homebuyers find the home and lot that is appropriate to their circumstances
better financial preparedness to maintain their mortgage
Additionally, Chairman Ben Bernanke stressed that the Federal Reserve is encouraging the institutions it supervises to manage their inventories of foreclosed homes in ways that do not exacerbate problems in local neighborhoods, preferring rather to rent them out, where appropriate, over leaving the properties vacant.
"The Minneapolis housing market has experienced a tremendous flux of real estate investors who have taken advantage of low interest rates and bought up foreclosed homes at bargain prices. Many have completed a home renovation process and converted the properties into rental income," said Sprenger. The high number of foreclosed home purchases that have been renovated, and become new rental single-family homes has reduced the number of vacant homes substantially.
Coinciding, private residential construction data released by the U.S. Census Bureau on November 1 gives home builders credit for many of the new jobs we have seen. The data shows sustained year over year gains every month so far in 2012 as found in the "Value of Private Residential Construction Put in Place" report. September data from the Job Openings and Labor Turnover Survey (JOLTS) indicated construction hiring picked up in September after a slow August, with projections it will be stronger in 2013. According to the JOLTS November 6, 2012 report, "The job openings rate for construction and manufacturing have risen the most, 367 percent and 150 percent, respectively".
Minneapolis and St Paul residents seeking to build a home or engage a major home renovation in 2013 can reach Destiny Homes by calling 952-934-5706. Destiny Homes has been working in Minneapolis and the surrounding areas for over 35 years doing much more than renovation, construction and home design work: for Butch and Liz, it is about building friendships that build communities.