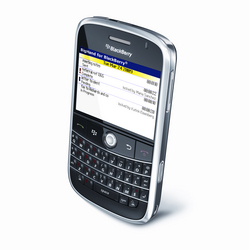 Chicago, IL (PRWEB) August 5, 2009
Quinlivan & Hughes, P.A., a Minnesota-based law firm, has announced it has realized considerable efficiency gains and cost savings from implementing BigHand voice productivity software. The software has allowed teams of experienced legal secretaries to collaborate instantly to get more work done, help each other out at peak times and adopt a highly proactive approach in regards firm-wide workload and client deadlines. The project has had a particularly positive impact during a summer vacation period where staffing levels can be abnormal.
Law firm administrator, Dale Grewing, of Quinlivan & Hughes, P.A. commented:
"Many of us have sat in meetings regarding installation of new technology where part of the savings, or return on investment, is stated as savings in productivity, or labor, only to find out that those savings are difficult to discern, or actually don't even exist. Our law firm has actually been extremely pleased in that our investment into BigHand software gave us a high quality system with an actual measurable saving in production, plus a management component that actually increased camaraderie and teamwork."
Quinlivan & Hughes PA previously had an old cassette tape analog dictation system where timekeepers dictated into handheld tape systems and then dropped the tapes off on their secretary's desks. The old tape system presented numerous problems that impacted efficiency including: the quality of the sound duplication degraded as the tapes degraded; secretaries stations required significant maintenance; tapes often broke; secretaries had no idea how much work was on a tape; it was very difficult to identify how much work a particular secretary had to do on any given day, and counting tapes was a very ineffective way of determining dictation inventory. Grewing continued:
"In past years, especially during the vacation periods in the summer, we found that we were using temporary staffing agencies for legal secretary work. Although these agencies sent us well-qualified temps, it was still very difficult to enter a work situation for a period of weeks and be as productive as we needed. With the teams and management capability that is part of the BigHand system we found that we could cover many absences by just involving others in the team to help cover in those situations. We've been able to reduce the use of temporary staffing almost entirely. Those are direct savings due to increased productivity because of the technology, something we all strive to achieve. I would further add that most of our staff would tell you, with not much contemplation, that the BigHand investment - supplied by Loffler - has been one of the best upgrades in technology at our firm."
Quinlivan & Hughes PA has offices in St Cloud, MN, Little Falls, MN and Sioux Falls, SD. The voice technology installation has been run via Loffler Companies, a BigHand partner, across a terminal server environment.
Contact:
Dan Speed, VP Marketing, BigHand Inc., dan dot speed at bighand dot com
About BigHand
BigHand is based out of Chicago, London, Sydney and Toronto. BigHand is the leading voice productivity application in the professional services community. BigHand was awarded 'Best of Breed System of the Year' at the Legal Technology Awards for 2008, and BigHand for BlackBerry® Smartphones was voted 'Mobile Product of the Year' at the CNET Business Technology Awards 2008. BigHand was also nominated in the Sixth Annual Law Technology News (LTN) Awards for 2009 as 'Dictation System of the Year' and 'Mobile Tool of the Year'. Further information is available at http://www.bighand.com/
About Quinlivan & Hughes, P.A.
Quinlivan & Hughes, P.A. is a law firm based in St Cloud, MN. We have additional law offices in Little Falls, MN and Sioux Falls, SD. Our areas of practice include: Insurance Law Practice, Business Law, Commercial Law, Employment Law, Estate Planning, Trust Law, Litigation, Personal Injury, Worker's Compensation, Real Estate Law, & Family Law. Further information is available at http://www.quinlivan.com/
###