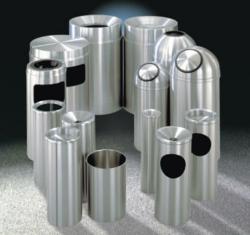 There is a trash receptacle for every situation, every space, and every décor. You'll find the one that is right for you by doing good solid research and by asking the right questions.
Hauppauge, NY (PRWEB) June 26, 2013
Glaro Inc., a leading USA manufacturer of waste receptacles and trash cans has taken proactive steps to make sure that buildings and properties across the United States are properly equipped. Glaro Inc. suggests that properties consider the following tips to ensure that they select the right trash receptacles for their facilities:
Deal with a USA Manufacturer
The company suggests buying trash receptacles from a manufacturer or dealer where "the choices are abundant and there is a diversity of design and finishes available," says Executive Vice President Bob Betensky. Glaro Inc. explains that domestic products give you a tremendous selection of better designed and manufactured products, more finishes, and better quality control over your product. In addition, products are able to be shipped within just a few days. "If there is ever a special request regarding a product or an order, a company like Glaro Inc. guarantees your issue will be addressed promptly and with great care by its in-house, trained customer service team or design team based in New York," added Mr. Betensky.
Focus on Finishes
Glaro Inc. suggests educating yourself about the range of finishes available to you on waste receptacles. "You don't have to have a uniform look or select a generic color if you are looking for something unique for your facility," says Bob Glass, Plant Manager. "You can actually combine finishes and have almost any look you would like. You must choose the right supplier or manufacturer who can offer you these options," added Mr. Glass. Glaro Inc., for example, offers 29 smooth or textured powder coated colors and two metal finishes consisting of satin polished aluminum and tarnish-proof satin brass. At no extra cost, customers may select the finish of the main body and separately the finish of the top cover to essentially create their own look. Covers may match or contrast to the receptacle bodies.
Glaro Inc. also recommends considering easy to maintain finishes. For example, Glaro's low maintenance finishes do not require polishing or frequent cleaning. Polished mirror brass, mirror chrome steel, and stainless steel are high maintenance finishes that are hard to keep looking clean. Glaro recommends that buyers avoid these finishes. Glaro has developed low maintenance finishes such as powder coated baked finishes such as Gloss Brass, Gloss Chrome, and fine satin aluminum as replacements.
Quality of Construction
Glaro Inc. states that there is a range in the quality of construction seen in the market. "You get a different result with a USA manufactured metal trash receptacle than you do with imported metal or plastic receptacles, and the finishing options are much greater when you choose all metal receptacles," says Bob Betensky. The company recommends a trash receptacle made of fire-safe tough heavy gauge aluminum or steel. All metal construction provides enough weight so that units are stable even in windy conditions outdoors.
Glaro Inc. also points out that you should find out if the waste receptacle you select comes standard with an interior steel liner can or if it is offered as an option. "We like our customers to have a choice and get exactly what they want," says Bob Betensky. For economy, Glaro Inc. offers trash receptacles without liners. For those who seek a more robust construction, steel liner cans are included on other models. "Many people do not think about the interior of the receptacle; however, an interior metal liner makes a trash receptacle more fire resistant and provides improved stability. It's worth asking about," mentioned Executive Vice President Neal Glass.
Functionality
Glaro Inc. reminds purchasing agents and buyers to consider all types of top cover designs available to them. For example, there are funnel tops, open tops, dome tops, self-closing lids, tip action tops, canopy tops, side opening models with flat tops, etc. Some receptacles come with an ash receptacle too and they are called ash/trash receptacles. "There is a trash receptacle for every situation, every space, and every décor. You'll find the one right with good solid research and by asking the right questions," added Mr. Betensky.
To learn more about Glaro Inc. waste receptacles and trash receptacles, call 1-888-234-1050 or email info(at)glaro(dot)com. Additional information is available on the company's resourceful blog located at glaro(dot)biz and its website glaro(dot)com.
About Glaro Incorporated:
Glaro Inc. (glaro.com) is a leading USA manufacturer of commercial and consumer aluminum and steel products sold directly to distributors/dealers for almost 70 years. All products ship in 1 to 3 days. Glaro Inc. products are the result of a focus on thoughtful innovation and design. Product lines include bellman and luggage carts, platform trucks, waste receptacles, recycling receptacles, smokers' posts and receptacles, crowd control posts and systems, safety barriers, signs, sign frames, directories, menu display stands, coat hanging equipment, umbrella stands, wet umbrella bag holders, metal planters, and key drop boxes. A diverse selection of models in 31 finishes is produced in the Hauppauge, New York plant by skilled Glaro Inc. craftsmen. The company is known for its quality merchandise and its ability to consistently quick ship all products. The customer service department provides unusually prompt personal service and is sensitive to the needs of dealers and distributors.