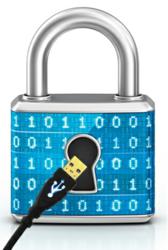 We recognized that USB devices are one of the largest threats to endpoints.
Fullerton, CA (PRWEB) January 13, 2012
Milton Security Group LLC, a manufacturer of network security appliances and network management solutions, announced today the introduction of USBInformer.
More and more data breaches are being reported in the news, even on networks that have no Internet access. One of the most common breaching sources are USB devices being plugged into corporate systems. Anti-Virus is a passive technique to prevent malware and is only as good as the most recent signatures. Corporations are losing billions of dollars per year due to data loss, data breaches, and downtime. To prevent this USB and removable media crisis, companies need to ensure only authorized devices can be used on their computers. With a proactive combination of corporately owned removable media (like from IronKey), user education of proper security techniques, and utilizing USBInformer from Milton Security Group, organizations can mitigate Down Time, Data Loss, Data Breaches and the spreading of malware & viruses from USB devices.
The USBInformer solution is Milton Security Group's newest addition to the expanding Informer Series of products. USBInformer provides an additional layer of security at your end nodes. By controlling access to each USB device that gets plugged in to a monitored client, USBInformer protects against unauthorized use of those USB devices. Administrators can now ensure they know which devices are allowed on the network, who uses them, and on which systems.
"We are excited to be bringing another layer of security to the endpoints." says James McMurry, CEO. "We recognized that USB devices are one of the largest threats to endpoints. We have seen this threat on high profile private networks, isolated from the internet, becoming infected with viruses. In many of those cases, the virus was brought in by USB Thumb Drives that administrators did not know were being used."
The USBInformer is available for ordering immediately directly from Milton Security Group, and through authorized resellers. For more information regarding informer USBInformer please visit our website.
About Milton Security Group LLC:
Milton Security Group is the Bring Your Own Device enabler for your organization. Our product lineup enables granular control over all devices on your network. Milton Security Group LLC offers the first low cost adaptive endpoint and network access control suite of products.
Founded by James McMurry in 2007, Milton Security Group has enabled organizations, from Federal & State Agencies, Cities & Counties, Public & Private Universities, Hospitals, Small and Mid-size corporations to protect their internal network systems and endpoints. Knowledge is key to securing your systems, and Milton Security Group brings that knowledge to you.
Visit http://www.MiltonSecurity.com for information or call 1.888.674.9001.
Milton Security Group LLC
111 North Harbor Blvd., Suite D
Fullerton, CA 92832
Main: 888.674.9001
Support: 714.515.4084
http://www.miltonsecurity.com
info(at)miltonsecurity(dot)com
# # #