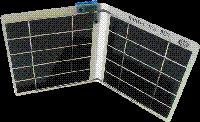 Powerful handheld device solar charger - delivers over 5 watts directly from the sun. Charge, talk and surf while the sun shines
San Jose, CA (Vocus/PRWEB) December 08, 2010
Introducing the latest in USB solar charging from Suntactics. This is not an ordinary small solar charger. The PC5 uses high efficiency solar cells like the ones used in industrial grade solar systems. No other small solar charger that we have found can match the same solar energy output in such a small package.
This PC5 USB solar charger has the ability to run and charge a USB device without any backup batteries.
Very common to other solar charger designs is the use of an internal built-in battery. They use a small solar panel to trickle charge this battery. Once this battery has a charge after some hours or even days, the dead USB device can finally be charged from the battery. These things are literally charging a battery from a battery. The solar panels on them are too weak to charge the USB handheld device directly. Also be aware that the battery on these chargers will eventually fail either from overheating in the sun, being stored on a shelf too long or not being maintained.
The PC5 solar charger has 5 watts of solar power potential as compared the ~2 watts in most of the other chargers. The PC5 will not only charge the USB handheld device, it will run it on dead batteries. The PC5 is built with high quality materials so it will last for years. It uses a standard USB port common to most USB devices. Unlike some other solar chargers where you need a special connector.
Use the PC5 solar charger to charge USB handhelds while camping, at picnics, at the beach, by the pool, or ball games. Take it hiking to charge that GPS device or use it for emergency power and disaster power relief. Use it to solar charge USB devices when there is no other power available. It is common that cell phones and GPS devices continue to work when power grid is down.
Features:
No internal batteries needed, Non toxic, Special folding design fits in purse, small cd wallets and backpacks, Water and weather resistant
Standard USB "A" connector, Solar USB output: 5vDC/1Amp, Solar panel output: 1.2 Isc, 5.8 Vcc, Open size: 6-1/8" x 11.5",Weight: 7oz/200g
Special circuitry helps USB device to switch into highest charging mode as more sun is available throughout a day
Made in USA
###