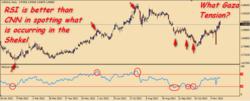 It helps you avoid being exposed when markets are exaggerated or depressed.
Dayton, OH (PRWEB) November 15, 2012
In Eric Harbor's latest blog post for traders of CaesarTrade, he proposes how the use of analyzing the price action of the Israeli Shekel, with the technical indicator RSI, can help indicate what is truly occurring in Israel and, therefore, by extension Mid East tension.
"I never used RSI, really, and was skeptical since everyone uses it, but when I started subscribing to White Wave Strategies, David Israel, the editor, was adamant that it helps you avoid being exposed when markets are exaggerated or depressed. Basically, it's a mathematical way of following Warren Buffet's axiom: 'Buy when others are fearful, and Be Greedy when others are fearful.'"
The article also presents how news outlets tend to be late in presenting a news event, but sensationalizing it, nevertheless, where the proverbial animals already left the barn. Eric reasons, "It's ironic, as we show, that while the majority don't trust technical analysis, they believe the media wholeheartedly. Yet, as shown, are not correct on market turns. No one remembers but OIL went down when the US went to war with Iraq. What we have found to make sense is the idea presented in Socionomics by Robert Prechter, where the financial markets reflect the real-time psychological phenomena of the public, but by the time it is reflected in mass media that movement already has been exhausted."
As presented in CaesarTrade's blog post, the time to be fearful or calm should not be based on news reports, but market action. For a fun and unique way to stay in touch with the markets to see the theory in action, CaesarTrade invites readers to follow through its interactive Facebook page. "It's a great place to interact and see a different approach to the financial markets while meeting new people" states Eric Harbor, ceo, CaesarTrade.
Company Information:
CaesarTrade FX * CFD was created for all kinds of traders, everything that we offer is geared towards the goal of saving a trader time and money through tight fixed spreads, 24 hr access, every Currency Pair along with CFDs that cover Precious Metals, Energy, Commodities, Global Indexes, and Stocks Worldwide - From the US to India.
White Wave Strategies is a service based provider of Intelligent Real Time Risk Analysis for Professional Traders. By opening an account with CaesarTrade, you now have the opportunity to try this VALUABLE service at no cost for a limited time.
For more information on forex trading visit: http://www.CaesarTrade.com.
Follow the markets and gain insight through Facebook and read great article links on Twitter