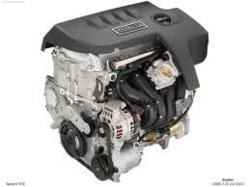 This company is now providing faster shipments to Detroit, Lansing, Grand Rapids, Flint and Ann Arbor.
Detroit, Michigan (PRWEB) March 22, 2013
Replacement engines are one part of the automotive industry that serve an important purpose in many states. Since many vehicles are produced in the state of Michigan, the usedengines.co company is using its distribution resources to provide expedited shipments for all used engines in Michigan. This company is now providing faster shipments to Detroit, Lansing, Grand Rapids, Flint and Ann Arbor to help engine buyers make faster replacements. This new change of shipment policy is in addition to the free shipping recently announced online.
Engine shipments from one state to another can be a hidden expense for some buyers. The special handling and experience required by a freight company usually comes at a higher cost for customers. It is common for some companies to use one carrier for all company shipments.
The engines that are now shipped inside state of Michigan are handled specifically by freight experts selected by the Used Engines Co. Insurance is now included for all shipment types and no special handling fees are charged for the free shipments now offered.
Several upgrades have been made this year online to the company website. The writing and publishing of hundreds of website pages has been completed this year. These pages now serve as one resource online for buyers to use to become educated about the company inventory before purchase.
The pages are added on a weekly basis to provide more information to buyers that is applicable to specific engine types. The distribution of this information is offered in addition to the toll-free telephone number provided for customer assistance.
The expanded distribution in the Midwest for all preowned engine shipments by the UsedEngines.co company first started in Ohio. A news announcement for the start of these shipments can be found at http://www.prweb.com/releases/used-engines-in-ohio/ohio-used-engine-dealers/prweb10510113.htm.
The new distribution partnerships now in place have helped make this distribution possible in the Midwest. This company expects to announce new shipment destinations later this year to provide more shipments to customers in other parts of the country.
About UsedEngines.co
The UsedEngines.co company has positioned its engine inventory to be among the largest in the United States for an Internet retailer. This company now supplies all states with preowned replacement engines ready for installation at reduced prices. Automotive experts own and operate this company in effort to make this resource one of the most complete online. The UsedEngines.co company has created a free shipment policy for all of its engine shipments. This measure has been a welcomed addition to customers using this company to purchase used engines.