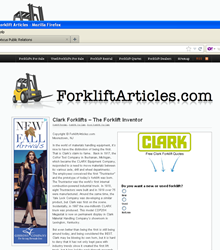 They conceived the first 'Trucktractor', and the prototype of today's forklift was born.
Moorestown, NJ (PRWEB) December 21, 2012
According to the latest article in the new website, ForkliftArticles.com, which tracks the history, growth and activity of the material handling industry, in 1917 the employees of the Colfor Tool Company in Buchanan, Michigan, which became the Clark Equipment Company, responded to a need to move materials between its various axle, drill and wheel departments. They conceived the first "Trucktractor," and the prototype of today's forklift was born. In 1918, eight Trucktractors were built and in 1919 there were over 75 of them. Incidentally, 15 years ago, in 1997, the one-millionth Clark lift truck was produced. This model CDP25H Megastat is now proudly on permanent display in Clark Material Handling Company's showroom in Lexington, Kentucky, preserved as a testimony to Clark's enviable title as inventor of the forklift and its reputation as a lifelong innovator in the industry.
Clark Forklift Dealers span the globe, and the company boasts of over 250 North American dealer locations alone. Another "first" in the history of forklift manufacturers is that Clark was the first forklift manufacturer in the world to be certified in compliance with the internationally accepted quality standard ISO 9001 for all ts forklift manufacturing plants worldwide.
Globally, Clark has one of the broadest product lines in the industry with five major lines: Trucks ranging from 1,500 to 18,000 pound capacities; LPG , gasoline, dual fuel, diesel, narrow-aisle stackers; electric riders and powered hand trucks. Presently there are over 250,000 Clark lift trucks operating in North America and 350,000 worldwide. Clark Forklift Sales are bolstered by one of the most comprehensive parts distribution centers in the industry, operating out of Clark's headquarters in Louisville, KY.
As the first materials handling company, Clark has earned its place in the front of the class. Its commitment to research and development and its investment in technology has ensured not only its survival for almost a century, but guarantees its consistent sustainability and leadership as a charter member of the industry.