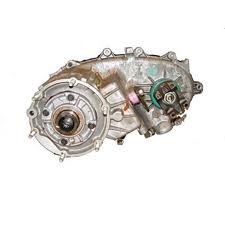 These case assemblies are imported for direct sale to vehicle owners and to companies that purchase replacements for resale.
San Francisco, California (PRWEB) January 08, 2013
The TransferCasesforSale.com company has added to its online inventory of assemblies and has included used Isuzu transfer cases online. More information can be found online at http://www.transfercasesforsale.com/isuzu-rodeo-transfer-case.
This new upgrade is now one way that this company is helping SUV vehicle owners find reliable parts for a low price. These case assemblies are imported for direct sale to vehicle owners and to companies that purchase replacements for resale or installation.
The Isuzu brand has sold well in the U.S. and Canada since the early 1980s. The creation of the Trooper made it possible to compete with Ford and Chevrolet in the SUV market. Consistent engineering and a partnership with General Motors helped to broaden the market reach for the entire lineup of vehicles.
Millions of these SUVs were distributed and sold to buyers and many of these vehicles remain in daily use. The 4x4 assemblies that are now sold online are expected to provide a trusted resource for buyers.
The creation of the off-road capability in vehicles is controlled by the transfer case. Passenger cars and sedans do not utilize this important automotive part. These assemblies require service on a routine basis and many body shops and mechanics are qualified to make a replacement.
A person who has a high mileage unit that has not been serviced typically must replace the unit. The high cost of a new assemblies versus the reduced price of a used case has helped the TransferCasesforSale.com company to expand its company operations.
To go with the new integration of used Isuzu case assemblies, the warranty terms for all in stock inventory have been updated. All units now include a warranty extension that is designed to cover the parts against failure. This includes the gears, couplers and other essential components that help provide a reliable 4x4 system. This warranty extension is one of the first of its kind to be offered in the preowned parts industry.
Rebuilt editions are now offered along with used units to provide more variety to customers. A new spin testing program was launched in the fall of 2012 to help improve the final output quality of reconditioned transfer cases. This program is expected to remain in effect through the 2013 year. The news announcement for this testing program can be found online at http://www.prweb.com/releases/rebuilt-transfer-cases-/now-spin-tested-for-sale/prweb10146998.htm.
About Transfer Cases for Sale
The Transfer Cases for Sale company started selling its parts assemblies online in 2009 and is now one of the leaders in this industry. One of the ways that business has been expanded over the past 48 months is the addition of sales to the general public. Apart from selling its cases to B2B clients, vehicle owners now have the capability to purchase online and offline. The Transfer Cases for Sale company offers complete parts warranties with all of its inventory and stocks the majority of foreign and domestic assemblies. Constant additions to the inventory and engineering upgrades have helped this company maintain its reputation.