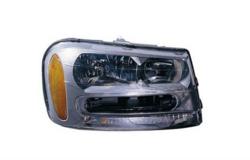 These lights and assemblies are part of the preowned inventory of GM auto parts currently listed for online sale.
Sandusky, Ohio (PRWEB) June 15, 2013
General Motors produced its Trailblazer for the Chevrolet brand until 2011. The termination of this brand in the United States has created some parts shortages for interior and exterior parts. Hard to locate lights and assemblies are now part of the AutoProsUSA.com company inventory online. This company is now providing a GM discount for its used Trailblazer headlights at http://autoprosusa.com/trailblazer-headlights. These lights and assemblies are part of the preowned inventory of GM auto parts currently listed for online sale. These announced discounts are expected to remain in place for the rest of the year.
Headlight illumination has changed over the past three decades due to better technologies in bulb and assembly development. Lower wattage bulbs are now the primary source for supplying light for front headlamps. The use of LED, halogen and xenon types are becoming more common as automakers develop better sources of illumination for vehicles.
Locating a complete headlight replacement for some vehicles is one struggle that confronts owners of vehicles. Some dealerships provide the only resource to purchase new assemblies in the U.S. The Auto Pros inventory and announced discounts are offered to help owners of vehicles locate assemblies ready for install without the typical legwork of finding these through dealerships.
The database system installed on the company website is now used as a primary way to showcase parts inventory and pricing to consumers. The company staff makes daily updates to the content published inside of the database. Pricing is now extracted from this online system using the quote tool published for consumer use.
The headlight assemblies now in stock as well as additional auto parts can be quoted starting with the year of each vehicle and the model. This criteria now forms the foundation for each price quote that is sourced from all dealers now shipping these parts to consumers. Exact matches in the company quote system provide multiple quotes for each part requested.
The pickup truck and SUV series headlights now listed for consumer sale includes recent Ford inclusions made last month. The F150 series truck lights can now be searched inside the company database at http://autoprosusa.com/ford-f150-headlights-sale. These exterior body parts can be among the hardest to locate for preowned vehicles.
The company upgrades made this year are expanding the amount of exterior parts that can be searched and purchased easier online. Each of the parts now available includes the standard edition warranty coverage provided by each fulfillment partner. These warranties now expand the assurance for consumers when installations are completed.
About AutoProsUSA.com
The AutoProsUSA.com company connects consumers with preowned parts supply companies in the United States through its developed database system online. All parts included and listed for online sale are derived from leading companies supplying automotive businesses. Brands like Ford, Chevrolet, Dodge, Jeep and Honda are all represented in the preowned inventory of auto parts online. The AutoProsUSA.com company supplies the toll-free customer support line to help answer questions or concerns buyers have before purchasing preowned parts in stock. All inventory held by this company receives daily updates for price and availability.