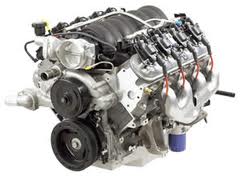 The addition of this engine series online is expected to help pickup truck owners, SUV owners and van owners.
Dallas, TX (PRWEB) March 05, 2013
Purchasing a new vehicle typically comes with generous warranty protection. Owners of preowned vehicles can struggle trying to locate a dealer to purchase a replacement motor. The UsedEngines.co company is a leading preowned vehicle motor seller on the Internet. This company is now offering its used Vortec engines for sale online to all buyers. The addition of this engine series online is expected to help pickup truck owners, SUV owners and van owners searching for a quality replacement. More information can be found online at http://www.usedengines.co/used-gmc-engines/53l-gm-engines-sale.
The Vortec engine series was the replacement series for the Generation II engine family. General Motors created the series in 1985 and used it primarily in vans and SUVs. The Vortec series was also one of the first to be offered in crate engine formation for sale to the public. The popular 4.3, 5.3 and 5.7 series remain the most requested replacements for many GM vehicles.
The preowned Vortec series now online can be searched in the company inventory. Discounts that are applicable to this motor series are offered to owners of vehicles and trade industry buyers.
Warranty programs are expected to cover high mileage during normal engine use. New car owners typically receive a period of protection between three and five years. The secondary market industry typically does not attach warranty protection with a high mileage engine. Many of the replacements that are offered are pullouts that are sold through junkyards and salvage companies.
The UsedEngines.co company has now rewritten its warranty policy to provide protection for up to two years for qualified engines sold to all buyers.
The website quotation system that was installed late last year is now responsible for producing record numbers of price quotes for this company. The click of a button now produces pricing and warranty terms for buyers performing research before making a purchase.
This qualified research method is helping more people match engine VIN numbers and receive the correct engine codes. The toll-free price delivery option remains in place for customers who prefer to speak with a representative instead of receiving online assistance.
About Used Engines Co.
The Used Engines Co. is one of the leading sellers of used motors for vehicles the United States. This company distributes its discounted engines to the public and trade industry companies. Routine warehouse upgrades are made in order to supply the engine types customers cannot find from other sources. This company has built one of the biggest inventories of motors from the past 25 years found on the Internet. The Used Engines Co. provides extensions of warranties, free shipping and other incentives frequently announced to help customers save money when purchasing an engine for replacement in vehicles.