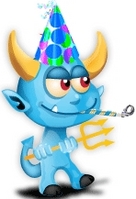 ...the first online social network...
Anderson, SC (PRWEB) November 10, 2009
NewsDemon.com Newsgroups celebrates the Thirtieth Anniversary of USENET. It was thirty years ago this month that USENET debuted and quickly became the largest online community channel on the planet. As the first online social network, USENET newsgroups continues to be a vital resource and destination to thousands of users after three decades.
In late 1979, Tom Truscott and Jim Ellis developed the foundation of what we know USENET to be today. Quickly outgrowing expectations, USENET exploded in popularity and became a daily destination for thousands to access a wide variety of newsgroups. Since then, USENET newsgroups have accumulated millions of subscribers over the last thirty years and continue to attract new ones every day. USENET also has been a vital online communication channel for amazing achievements, including the announcement of the launch of the World Wide Web in 1991.
To celebrate the thirtieth anniversary, on Wednesday, November 11th, all monthly USENET accounts will be offered for only $1.00 per month for the first two months of the membership term. This special applies to all premium USENET monthly plans, including the unlimited USENET newsgroup memberships.
Throughout the years, NewsDemon.com Newsgroups has been active in promoting the resources that the USENET newsgroup community provides. This year alone, they have hosted a number free USENET access offers to University and College campuses as well as media outlets to grow awareness and the overall USENET newsgroup participation.
NewsDemon.com Newsgroups has also put together an interview of two USENET pioneers: Tom Truscott, one of the founders of USENET and Brad Templeton, the originator of one of the most famous newsgroups, rec.humor funny. Both Truscott and Templeton share and discuss the past, present and future of the USENET phenomenon and offer their insight as well as a previously unreleased copy of the original memo announcing USENET.
USENET continues to grow the global community of users, developers and activists it has spawned since its creation. It's expected that over the next thirty years, USENET will continue to evolve and innovate to better serve the community that has sustained it.
It's no question that USENET is a unique place in the online world. After thirty years of being driven by its subscribers to improve upon it, the community fueled system is expected to sustain its growth for another thirty years to come. From all of us at NewsDemon.com Newsgroups, we wish a fond Happy Birthday, USENET!
Providing top-rated premium USENET access to both United States and Europe, NewsDemon.com Newsgroups is proud to participate in celebrating the thirtieth anniversary of USENET.