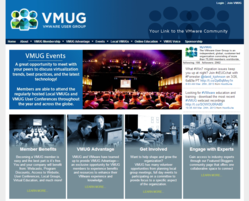 The VMware User Group is a model for both company-run and independent user group communities. Socious is proud to provide the software platform driving their communities, events, and membership. - Paul Schneider, Socious co-founder
Mesa, Arizona (PRWEB) March 26, 2013
BtoB Magazine recently announced the winners and runners-up of its annual Social Media Marketing Awards at a luncheon in San Francisco. The VMware User Group, a heavy user of Socious's online customer community software platform was named the runner-up in the best closed community category. Cisco Systems was awarded the top honor.
The VMware User Group has grown from roughly 20,000 members to 75,000 in the past 2 years. The organization, also known as VMUG, began using the Socious online community platform in 2011.
"The VMware User Group is a model for both company-run and independent user group communities. They are a great example of an organization that has embraced technology to grow their user base. Socious is proud to provide the software platform driving their communities, events, and membership," said Paul Schneider, co-founder and senior vice president at Socious.
Socious enables VMUG to manage their user group using a single platform for all of their public, member-facing, and back end technology. The Arizona-based customer community software company implemented their full suite of user community tools, which includes a CMS to manage VMUG's entire public and members-only website, secure peer-to-peer online communities, a membership management system, event and speaker management platforms, and the Socious mobile community and event apps.
Socious recently published a case study on VMUG to help other business-to-business companies learn from the VMware User Group's success. It can be found online at socious.com/customer-case-studies.
See the full list of B2B Magazine's Social Media Marketing Award winners.
About Socious
Founded in 2002, Socious (socious.com) offers the industry's most complete online community software to large and mid-sized businesses, user groups, and associations. The Socious platform includes private social networking, customer communication tools, advanced segmentation, forums, collaboration tools, and a full mobile platform to help organizations increase sales, retention, and member engagement. Take an online tour of Socious online community software.
###