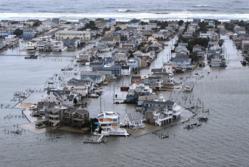 Orlando, FL (PRWEB) November 01, 2012
When Hurricane Sandy crashed into Northeast American earlier this week, the Federal Emergency Management Agency (FEMA) reported having $3.6 billion dollars worth of relief funds. This massive amount of funds generally goes towards relief efforts for those in need of food, water, and basic necessities. However, an extremely large portion of the funds goes to contractor employed by the government to fix damages and repair fallen or broken structures. However, according to the Patriot News based out of Pennsylvania, there are contractors posing to represent non-profit organization and collect money up front or scam for donations. The United States government is urging individuals to check with the Better Business Bureau through their database to determine if the company offering to help with natural disaster support is a tax-exempt group listed with the IRS.
Contractors can use no-bid contracts with FEMA in order to help out on the spot with aid and support. No-bid contracting gives the benefit of the business that is registered for federal employment to go to a FEMA site and help in the relief efforts to help rebuild and reconstruct damages from Hurricane Sandy immediately. FEMA has a need for products and services in virtually all industries. With the amount of damage to New Jersey alone, contractors nationwide should begin preparing for future contracting demands by checking their registration status. To learn more about FEMA contracts visit http://www.femacontracts.com.
In order to bid on and work government contracts, businesses must obtain a DUNS number and must complete a System for Awards Management (SAM) registration. Submission of a FEMA Vendor Profile is also required in order to win FEMA disaster relief contracts. Successful contractors also develop aggressive government marketing plans which include the creation of a profile on government websites such as the SBA's Dynamic Small Business Search and automated bid notifications to their email. US Federal Contractor Registration is strongly encouraging small businesses to ensure their registration is complete and correct so they don't miss out on the new opportunities available in government contracting. Information on how to win federal government contracts can be requested through the Contractor Helpline at (877) 252-2700 ext 1.
To help small businesses avoid costly errors, US Federal Contractor Registration is offering a free evaluation and review of vendors' government registration, including their SAM registration filing. During the evaluation, a Placement Specialist will review the company's government contractor registration to ensure it is complete, contains the correct information and is optimized to help them win government contracts. To receive this free evaluation, interested businesses should contact the toll free Contractor Helpline at (877) 252-2700 ext 1. Placement Specialists can also prepare a free government contracting profitability assessment to help business owners review government spending trends within their industry and identify current contracting opportunities.
US Federal Contractor Registration is a third party registration firm that has helped thousands of businesses complete their SAM registration and bid on contracts. US Federal Contractor Registration pairs businesses with a dedicated case manager who helps them every step of the way from initial registration to bidding on contracts. To request a free evaluation and assessment by a Placement Specialist for your business, call the Contractor Helpline at (877) 252-2700 ext 1 or visit our website at https://www.uscontractorregistration.com/.
Written by: Max K. Timko