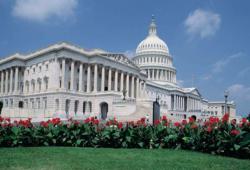 Orlando, FL (PRWEB) March 13, 2013
The sequestration is now going to take full affect resulting in massive budget cuts, eventual government lay-offs, and a number of other hurdles that require an immediate leap. President Obama signed a bill that would not only continue but increase government contracting incentives for small business. This new provision included in the military spending budget was a designed to help small businesses compete for government contracts. In the past 11 years, the federal government has failed to meet its small business government contracting goal of 23% for all overall procurement. Government purchasing officers will not only continue but are highly encouraged through their departments to contract more small business.
The General Services Administration (GSA) has created the National Information Technology Commodity Program to better meet the contracting needs to small businesses. Recently the federal government awarded 43 contracts through this new program. According to the GSA the National Information Technology Commodity Program (NITCP) procure IT commodities and ancillary services for federal, state and local governments using innovative solutions. The overall goal is to give the Government a fast and effective way to order IT commodities and products at sharply discounted prices with prompt, cost-effective delivery and effective customer service, while capturing economies of scale, ensuring compliance with applicable regulations, fostering markets for sustainable technologies and environmentally preferable products, and simplifying data collection. Programs such as these along with the collaborated effort of other government agencies will help small businesses play more of an intricate role in government contracting. This will require small businesses to properly register for government contracts in order to be eligible to receive these available awards. US Federal Contractor Registration is the world's largest third party registration firm that registers small businesses interested in becoming eligible for these available government contracts.
Eric Knellinger, President of US Federal Contractor Registration stated, "Many government employees and agencies will be affected by the sequestration. Making sure small business continues to pick up steam and move forward to more opportunity must always be a mission of the federal government. We here at US Federal Contractor Registration are aware of all the difficulties that small businesses are currently facing in this economy. Now that we all know government contracting will not be affected greatly by the sequester, small business can continue their efforts. Now more than ever businesses need help registering and marketing to the government. US Federal Contractor Registration provides all this help to a small business, from government registration to winning a bid. The United States has built itself back up from a looming economy before and we will do it again."