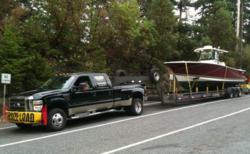 Without those testimonials, we probably would have lost 10-15 percent of that business. - Scott Bawcom, Dream Time Transportation
Austin, Texas (Vocus/PRWEB) January 10, 2011
Transporter Scott Bawcom never underestimates the value of checking his rear view mirror. His past customer reviews are the life blood of building and sustaining Dream Time Transportation, his Nashville-based, family-owned transport business.
In fact, almost 65 percent of Bawcom's business comes through online shipping marketplace uShip, where he is among a network of 200,000 registered transporters using free, individual profile pages – and accumulated customer reviews from uShip jobs – as a zero-cost marketing and customer acquisition tool.
uShip's proprietary feedback system just passed 250,000 unbiased transporter reviews and stories left by real-life customers. Similar to how feedback has brought trust to shopping on eBay, uShip transporter reviews have helped one million people make informed decisions when finding experienced, trustworthy moving companies. Nearly 70 percent of uShip customers voluntarily leave feedback after their moving jobs with satisfaction levels consistently hovering at 98 percent, well above industry norms.
As one of uShip's top boat and vehicle haulers, Bawcom (uShip ID: dreamtimetransportation) has built a feedback score of 154 and become one of uShip's many Power Providers: "With a million moving companies out there, there's nothing better than potential customers reading what others say about you. In our case, we have over 150 people on uShip saying we do a terrific job. Without those testimonials, we'd have probably lost 10-15 percent of that business."
uShip Reviews Carry Weight with Customers
uShip compiles internal, external and transporter-provided information into a single, publicly-available web page that's indexed on Google. In the past, gathering this information from bulletin boards, online searches, and Better Business Bureau, among other sources, has been fragmented and unreliable. Profiles on uShip have the ability to show:

Feedback score and details around communication, care of goods, timeliness, customer service
Customer comments and reviews, as well as links to full-length stories
Background, insurance, categories and regions served, payments, equipment photos and videos
Operating authority numbers and links to US government-operated sites to view compliance data
Current location through Tracking and Facebook-like status updates
uShip sales rank by category, honors, and if the provider is part of uShip's TerraPass program
"uShip's feedback system does for owner-operators what eBay feedback does for online sellers – it awards great service, builds business reputation, and brings trust to the transaction," said Matt Chasen, CEO and founder of uShip. "Superior customer service wins every time, so when people leave positive feedback and stories on uShip, a mover's profile page becomes a formidable marketing tool."
About uShip
uShip helps relieve the stress and high cost of moving hard-to-ship items, such as cars, household goods, boats, freight, heavy equipment, pets and more. Since it was founded in 2004, the uShip marketplace has attracted nearly $200 million in business transactions, one million customers and 200,000 service providers. uShip operates globally with localized functionality in the U.S., U.K., Germany, France, European Union, Canada, and Australia. http://www.uship.com
###