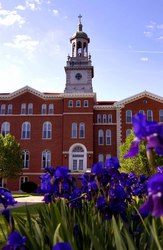 I received more feedback and instructor assistance from Saint Mary's online M.A.T. program than I did in my bachelor's degree program, and that was a face-to-face learning situation
Leavenworth, KS (PRWEB) November 30, 2007
University of Saint Mary (USM) is making some changes to its award-winning online Master of Arts in Teaching (M.A.T.) program. Beginning in January, 2008 courses in the program will go from three credit hours to six credit hours and course length will change from seven to fifteen weeks.
"We want to give students sufficient time to really master the content" said Nancy L. Murphy, Ed.D., the M.A.T. program director at USM. "In this new format, students will be exposed to more content and ideas, but they will have more time to adequately learn new concepts and use them to make a difference in their classrooms."
The new course format will combine the content of two of the former courses into one expanded course. Instead of a short seven-week time frame to become familiar with the content, the new format allows fifteen weeks for students and faculty to work together, giving equal time to the content of each area.
In the past, students would take two seven-week courses in their first term: Managing the Classroom Environment for Effective Instruction and Action Research: Collaborative Processes for School Improvement.
Now students will take the fifteen-week course: Action Research in Effective Classroom Environments. In this course participants examine effective classrooms and what teachers can do to create improved learning environments. Through action research, participants will study and apply theories of successful classrooms to their own setting.
With a student-to-teacher ratio of 12 to 1 on the campus, USM boasts one of the best ratios in the nation. This intimate and highly interactive learning environment is the characteristic that continues to set the M.A.T. online program at USM apart from other online graduate level teaching programs.
"I received more feedback and instructor assistance from Saint Mary's online M.A.T. program than I did in my bachelor's degree program, and that was a face-to-face learning situation," said David D. Lutz, a recent graduate of the program.
USM's long-standing commitment to providing teachers with the skills and resources necessary to be influential and effective classroom leaders has nurtured one of the most highly regarded online M.A.T. degree programs in the nation. The Princeton Review has repeatedly recognized USM, ranking it as a "Best Midwestern College" in 2006, 2007 and 2008, and as one of "America's Best Value Colleges" for 2007 and 2008.
Taught by professors who focus on teaching rather than research, the convenient online M.A.T. degree program can be completed in as little as 18 months and requires no on-campus visits. In addition to being accredited by the North Central Association of Colleges and Schools, University of Saint Mary is accredited by the prestigious National Council for Accreditation of Teacher Education (NCATE).
The unwavering commitment USM has to its students is embodied by its Applied Learning Guarantee. For one year after graduating from the M.A.T. program, USM will provide access to instructional mentoring and consultation with faculty members who will advise on the specific application and implementation of M.A.T. coursework to the classroom.
"Our mission is to ensure that M.A.T. degree program graduates are able to successfully integrate what they have learned into the classroom and to improve their performance as teachers," Dr. Murphy said. "Our commitment to these graduates doesn't end at graduation."
The online M.A.T. degree program has enrollment periods throughout the year. Admission requirements include: a bachelor's degree from a regionally accredited institution; undergraduate GPA of at least 2.75; must be a full-time practicing teacher; official undergraduate transcripts showing the date the degree was conferred; two letters of recommendation; and an essay on the applicant's philosophy of teaching and learning.
University of Saint Mary has a long history of providing affordable, superior-quality higher education. Since 1923, education has been the cornerstone mission of the school, making USM a historical leader in both the virtual and traditional classroom.
For more information about the Master of Arts in Teaching online degree program at University of Saint Mary, call 1-888-STMARYMAT (786-2796) or visit the university's website at http://www.teaching.stmary.edu.
About University of Saint Mary
University of Saint Mary is a private, four-year Catholic university founded and sponsored by the Sisters of Charity of Leavenworth. The main campus is located at 4100 South 4th Street in Leavenworth, Kan., with additional locations offering accelerated degree-completion and graduate programs in Overland Park, Shawnee, and Kansas City, Kan.
About Compass Knowledge Group http://www.compassknowledge.com
University of Saint Mary has enlisted the help of Compass Knowledge Group to market and recruit students for its online programs. Founded in 1993, Compass Knowledge Group, LLC (Compass) partners with higher-education institutions to create successful distance learning programs. Compass' industry-leading consultants assess institutional readiness and degree program viability. Using best-in-class marketing, recruitment and student-retention services, Compass introduces degree programs to the world and enables colleges and universities to succeed in the competitive online education marketplace.
###