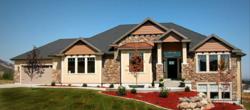 For the first time in many years we are seeing positive signs of the market improving
Salt Lake City, UT (PRWEB) May 24, 2012
Many new home builders in Utah are pleased to see things improving. With Utah foreclosure activity beginning to decline, interest rates at record lows, and supply of existing homes decreasing, the market conditions are well suited for home builders.
As one of the top new home builders in Utah, J Thomas Homes is seeing signs of this positive shift across many of their communities. For the company, sales of new homes and new townhomes in Utah have continued to increase in 2012 when compared to previous years.
"We anticipate positive things for new home sales this year," says Corey Johnson, President of J Thomas Homes. "Our buyers are eager to take advantage of the great interest rates and home prices. We are working around the clock to build the best quality homes for each of our clients."
Many builders, including J Thomas Homes are seeing more activity at their model homes, increased interest in new construction orders and eager buyers looking to take advantage of low interest rates.
With things looking up for the entire Utah real estate market in general, now may be the right time for buyers to purchase one of the many beautiful new homes for sale in Utah.
J Thomas Homes is one of the best home builders in northern Utah. The company offers new home and townhome communities throughout Cache Valley, Utah County, Weber County, Salt Lake County and Davis County. They recently announced several new communities including, new homes in Logan Utah, new Townhomes in Saratoga Springs Utah and more. To learn more about the company or for additional information about any of their available communities, visit jthomashomes.com or call 801.383.3252.