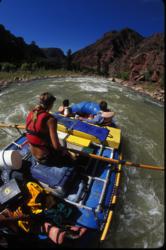 Adrift Adventures raft guides are expected to learn about the history, wildlife and geology of Dinosaur National Monument
Jensen, Utah (PRWEB) March 05, 2013
Adrift Adventures, a wilderness whitewater rafting company in Jensen, Utah, seeks experienced multi-day raft guides, and raft guide trainees for the upcoming river season in Dinosaur National Monument to span May 20 through Labor Day, 2013.
The longtime Utah rafting company is looking for three to four experienced raft guides with rowing skills and three to four guide trainees to complete a two-week guide training program, according to Travis Hochard, operations manager, Adrift Adventures.
"We are looking for experienced raft guides who can row a gear boat right away," Hochard said. "We are also looking for guide trainees to complete a two-week guide training course on the Arkansas River in Colorado through our parent company River Runners."
Hochard said experienced raft guides will be asked to report to Adrift Adventures in Jensen, Utah on May 14 for a Yampa River training trip, while guide trainees will need to report to River Runners in Buena Vista, Colo. on May 20.
"The Yampa River training is more of a familiarization trip, while the raft guide training program is much more extensive," Hochard explained. "It isn't easy, but participants will hopefully be certified Colorado and Utah raft guides by the end of the course."
Successful raft guide candidates should possess a strong work ethic, a passion for the outdoors and a background in customer service, according to Eileen Peterson, general manager, Adrift Adventures.
"In addition to getting people down the river safely, Adrift Adventures raft guides are expected to learn about the history, wildlife and geology of Dinosaur National Monument and be willing to share that knowledge with their rafting guests," Peterson said.
Interested applicants should submit a cover letter, resume and three references to rafting(at)whitewater(dot)net. Raft guide training applicants will need to pay a $500 course fee and plan to purchase some rafting equipment. Utah raft guides are required to have a current first aid and CPR certification and a Utah River Guide License, which can be obtained by passing a written exam and paying a $50 fee.
Multi-day rafting trips on the Green River and Yampa River in Dinosaur National Monument start in northwest Colorado and end in northeast Utah. Class III and class IV rapids are encountered and Leave-No-Trace camping is strictly enforced.
Adrift Adventures, authorized concessionaire of the National Park Service, operates Utah and Colorado rafting trips on the Green River and Yampa River in Dinosaur National Monument. Learn more about employment with Adrift Adventures at http://www.adrift.com or call 1-800-723-8987.