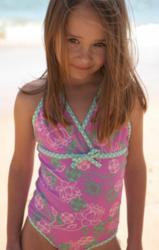 Miss 3 will be sun safe even with just her cozzies on. There are no burnt backs, legs, arms or necks to worry about
(PRWEB) March 11, 2013
Just recently, the leading company for infant, toddler and children's swimwear Platypus Australia were given 4-Star product reviews for their UPF50+ bathing suits and accessories. The high rating and praise was published on the product review pages of family-focused online community Familycapers.com.au. Both reviews on Family Capers focus on the products' high level of UV protection, fashionable designs, excellent quality, and of course, maximum comfort.
Common online discussions, amongst parents in sun-baked countries worldwide, have revolved around how to shield their children from the harmful effects of prolonged sun exposure. The difficult task many parents face, of having to constantly apply sunscreen throughout the course of their children's water play, is topped only by the challenge of getting them into uncomfortable, full-coverage bathers – and keeping them on.
Luckily in 1996, Platypus Australia recognized the dilemma mums and dads faced, and created their famous sun safe & UV protective swimwear for children. Seventeen years on, the Australian company has become a recognized global leader for skin cancer prevention by providing easy-to-wear, co-ordinated pieces of UPF50+ protective beachwear for the younger ones of the family.
Discerning parents have taken note of Platypus's very public mission to eliminate the risks children face while outdoors and have published their views online for other families to see. Not long ago, parents gave praiseworthy 4-Star recommendations, for both the boys and girls UV protective swimwear range, which were published on the product review pages at Familycapers.com.au.
The first evaluation of Platypus Australia's UV protective swimwear for children focused on a 3-year old boy who "would complain or get annoyed that he didn't look like daddy swimming or he would get too hot and uncomfortable." Platypus's fashionable rashies and full length suit, combined with UV protection and comfort, have clearly made an easy task of keeping this 3-year old boy as "cool as a cucumber".
What's more, the little boy's parent applauded Platypus's UPF50+ rating, which offers maximum sun protection, saying "the sunsuits are lightweight and breathable, making it easy for Mr 3 to move around and enjoy the water."
The next assessment came from the parent of a 3-year old girl who "loves going to her weekly swimming lesson, however no matter how much sunscreen I put on her I still worry about how much sun she is actually getting." This concern is a familiar one for mums and dads, so when the Family Capers parent fitted their toddler with a piece from Platypus Australia's UPF50+ range, they said "I know Miss 3 will be sun safe even with just her cozzies on. There are no burnt backs, legs, arms or necks to worry about."
In addition to the ease of washing and drying, the little girl's parent was also amazed at the range of styles available, from girl's and boy's rash guards to kid's bathing suits, "there is certainly something for everyone."
Receiving high praise for their efforts is nothing new to Platypus Australia. In the last quarter of 2012, the sun safe & protective children's swimwear company was commended by numerous mums in another popular online discussion board. The conversation thread was full of rave reviews of Platypus's great eye for fashionable co-ordinate pieces, quality and ease of use and of course, the maximum sun protection offered with their UPF50+ rating.
Family Capers' 4-Star reviews of Platypus Australia's swimwear range is another 'virtual trophy' for the company, whose mission has always been to protect children from the ill effects of sun exposure. Their extensive range, including sun shirts, swim shirts, rash shirts, board shorts and skirts, caps and bucket hats, all meet the strict criteria for Australian Radiation Protection and Nuclear Safety Agency (ARPANSA) and British Standard for Ultraviolet Radiation.
To learn more about, or to view the entire range of, Platypus Australia's maximum sun protection for little ones, visit: http://www.platypusaustralia.com/
About Platypus Australia
Since their beginnings in 1996, Platypus Australia's quality children's UV protective swimwear has spread to the UK, Europe, Asia and USA. They're export-ready garments are internationally acclaimed and in high demand since the effects of harsh ultraviolet radiation are now well known.
Platypus Australia's beachwear gives parents peace of mind knowing their children are safe, while having fun in the sun. For more information regarding their renowned product range, click here.