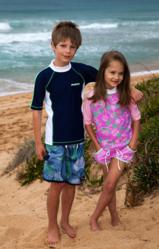 It's now very evident parents must ready their children for outdoors activity with UV protective swimwear
(PRWEB) March 18, 2013
Last month, the Cancer Council Queensland released findings on how wearing UV protective children's swimwear, such as swim-shirts, along with diligently applying sunscreen can help reduce the risks of skin cancer in children. Infant, toddler and children's beachwear expert and founder of Platypus Australia Ms. Karel Wheen says, "With the CCQ's news out, it's now very evident parents must ready their children for outdoors activity with UV protective swimwear. Providing the highest level of sun protection with our comfortable and fashionable beachwear for little ones is what Platypus has been doing for the past seventeen years."
Up to recent times, combating the risks of skin cancer in children has been comprised of parents keeping their kids indoors or by constantly applying sunscreen on them while outside. The problem with these old solutions is that one creates stir-crazy children while the other wipes and washes off easily; and not resolving both issues has serious consequences.
Platypus Australia has been offering an easy solution for parents by supplying the highest levels of UV protective children's swimwear on the market since 1996. By using their fashionable, comfortable and co-ordinated beachwear pieces with the top rating of UPF50+, along with applying a broad spectrum sunscreen to areas the swimwear doesn't cover, means parents can finally rest easy and let their children play under the sun.
The recent report on the Cancer Council Queensland's website, about how beachwear like swim-shirts can aid in reducing the threat of cancer, has further backed Platypus Australia's long-time stance that parents should use sunsafe clothing for their children while outdoors.
Ms. Wheen says her range of UV protective clothing adds further protection to the normal application of sunscreen, "Because our entire range blocks out at least 97.5% of ultra violet radiation." What's more, the fabrics have other positive qualities, such as being "breathable and quick-drying, making them really comfy for playing children."
However, the Platypus Australia's founder warns that even though her brand's products have the highest UV protective rating, parents should never allow sunscreen to wash or wear off just because their kids have sunsafe beachwear on, "parents need to be vigilant on areas that UV swimwear doesn't cover with regular applications of a broad spectrum sunscreen. Correct use of the right sunscreen is vital."
The renowned kid's swimsuit company produces UPF50+ pieces, which is the highest level of sun protection available for clothing. What's more, Platypus's range consists of "fun, trendy and easy to wear garments and accessories. Kids feel grown up in our co-ordinated pieces, because the style matches current trends. And they forget they're even wearing sun protective gear because they're truly so comfortable" says Ms. Wheen.
"Seeing this recent Cancer Council Queensland report should really hit home for parents," continues Ms. Wheen, "that covering up with UV protective children's swimwear is really mandatory now if you want to give your child the best possible chance to ward off the ill effects of sun exposure."
With new statistics now out, Platypus Australia urge parents to take positive action and "cover your children up with the best UV protective beachwear available." Platypus Australia's new Summer 2013 range consists of a wide variety of garments which accommodate those outdoor excursions to the beach or pool, including: swim shirts, board shorts and skirts, swimsuits, sun shirts, rash guards, caps, bucket hats and more, all of which meet the strict criteria for Australian Radiation Protection and Nuclear Safety Agency (ARPANSA) and British Standard for Ultraviolet Radiation.
View Platypus Australia's 2013 range of UV protective children's swimwear by visiting: http://www.platypusaustralia.com/
About Platypus Australia
Since their beginnings in 1996, Platypus Australia's quality children's UV protective swimwear has spread to the UK, Europe, Asia and USA. They're export-ready garments are internationally acclaimed and in high demand since the effects of harsh ultraviolet radiation are now well known.
Platypus Australia's beachwear gives parents peace of mind knowing their children are safe, while having fun in the sun. For more information regarding their renowned product range, click here.