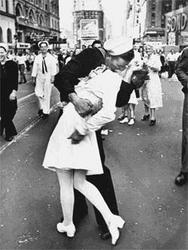 Los Angeles, Calif. (PRWEB) December 7, 2008
Edith Shain, the nurse who was kissed by the sailor in the iconic photograph taken in Times Square on the day World War II ended, will be a featured guest at a special annual holiday celebration for more than 2,000 veterans, active military and their families, hosted by volunteer organizations and members of the community on Pearl Harbor Day, (Sunday, December 7). The annual event, now in its 16th year, is held every December in cooperation with the Veteran's Affairs facility in West Los Angeles, will once again create a holiday party.
Ms. Shain will be joined by Bob Edwards, a member of the Pearl Harbor Survivors Association of Los Angeles, and Brigadier General James P. Combs, of the Joint Forces Training Base. General Combs was honored as the 2008 Man of the Year by the the City of Los Alamitos. Also on hand will be the award winning Young Marines unit from Temecula Valley, who will act as the official escort Ms. Shain and Mr. Edwards during the event.
The holiday event is produced solely through the efforts of more than 500 volunteers and the cash and product donations received from individuals and local businesses. It is free to all veterans, active service personnel and their families.
The event is organized by the Family of Women and Men's Division International, Southwest Region; the Westside Shepherd of the Hills Church; and the VA Volunteer Service organize the event.
The 16th Annual Veteran's Holiday Celebration is the nation's largest volunteer event of its kind.
WHEN: Sunday, December 7th from 1:30 to 7:30 p.m.
WHERE: 11301 Wilshire Blvd. next to Jackie Robinson Field on the VA Campus.
# # #