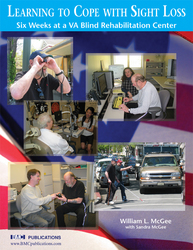 Bill McGee's 'Learning to Cope with Sight Loss' is filled with insightful observations and a complete analysis of all that the world-class VA facilities can offer to our Association members. –Tom Miller, Executive Director, BVA
San Francisco, CA (PRWEB) November 8, 2010
In an agreement reached in time for Veterans Day between Thomas H. Miller, Executive Director, Blinded Veterans Association(BVA) and William L. McGee, founder of BMC Publications, BVA will serve as the exclusive representative to the blinded veterans market for BMC's new title, "Learning To Cope With Sight Loss: Six Weeks at a VA Blind Rehabilitation Center" by William L. McGee (BMC Publications, 2010).
Throughout much of its 65-year history, Congress and the now Department of Veterans Affairs (formerly the Veterans Administration) have recognized BVA as the exclusive voice for blinded veterans nationwide.
When noted military historian and World War II veteran William L. McGee became legally blind from macular degeneration, he applied for and resided for six weeks at the VA Western Blind Rehab Center in Palo Alto, California. McGee was so impressed with the VA blind rehab program that he wanted to get the word out to other military veterans. He enlisted the "good eyes" of his co-author/wife, Sandra, and together they produced an illustrated, 36-page booklet which gives a firsthand account of his day-to-day experiences. It also made sense to record the booklet on Audio CD.
"BVA is the perfect arm to reach out and inform the many thousands of military veterans living with sight loss or low vision about the VA's blind rehab program," notes McGee. "It makes no difference whether the sight loss is service-connected or not. If my story inspires a few fellow veterans to 'get up off the couch' and seek help, then my objective will have been accomplished."
According to BVA Executive Director Tom Miller, "Bill McGee's 'Learning to Cope with Sight Loss: Six Weeks at a VA Blind Rehabilitation Center' is filled with insightful observations and a complete analysis of all that the world-class VA facilities can offer to our Association members and prospective members. The booklet will make a dramatic difference for good in the lives of scores of legally blinded veterans who have gradually or suddenly been faced with the challenges of adjusting to life without sight."
For information about the booklet or to obtain a copy of the publication and/or Audio CD, please contact BVA's Christina Hitchcock at 202-371-8880.
BVA traces its roots back to the end of World War II. The organization's founders consisted of some 100 young men, most of whom had lost their sight in the war. On March 28, 1945, the group met to form an organization to help their fellow blinded veterans. Thirteen years later, BVA was chartered by the U.S. Congress to speak and write on behalf of blinded veterans in national legislative affairs. Ever since, BVA officers and staff have worked tirelessly to fulfill the Association's mission and uphold the ideals expressed in its Congressional charter.
The BVA's Field Service Program (http://www.bva.org/fsp.html ) provides direct assistance to the organization's members. Field Reps, blinded veterans themselves, seek out the newly blinded to assist them in gaining a renewed focus and direction to their lives. They also help them in the sometimes complex VA claims process.
"Learning To Cope With Sight Loss" is available to the non-veteran market on Amazon or from http://www.BMCpublications.com. Other titles by William L. McGee include the Pacific war trilogy, "Amphibious Operations in the South Pacific in World War II" and "Bluejacket Odyssey, 1942-1946: Guadalcanal to Bikini, Naval Armed Guard in the Pacific."
# # #