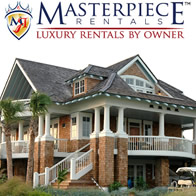 Since introducing this free one year listing promotion we've seen some amazing properties added to the site
Wilmington, NC (PRWEB) March 12, 2013
MasterpieceRentals.com, a world leader in vacation rental marketing featuring more than 2500 property listings around the globe and receiving more than 828,000 page views annually, is pleased to announce a special promotion for vacation home owners and property management companies, a one year listing on the website for free. The intention of this offer is to increase the number of rental properties listed on the site, expand into new parts of the world not previously available on MasterpieceRentals.com, and to provide a more valuable experience for both vacation rental owners and vacationers.
Existing listings have been extended for one year from their previous expiration date and listings that had expired have been re-activated and will remain active at no cost for one year. New complimentary listings can be created by using the code "trial365" on the payment screen, and will expire one year from the date the listing is created. There is no credit card information required to take advantage of this listing offer, and there will be no automatic renewals upon expiration. In addition, there is no limit to the number of eligible listings per property owner or rental management company.
MasterpieceRentals.com is a website dedicated to connecting vacation rental property owners with travelers searching online for accommodations. Travelers can search the database of worldwide properties to find photos and detailed descriptions of rental properties that fit their travel criteria. They can then contact the property owners directly to inquire about booking the property for their trip and make further arrangements. The site is free to use for travelers.
"We are excited about the future of MasterpieceRentals.com, and what it can become," said partner Megan Criss. "Since introducing this complimentary one year listing promotion we've seen some amazing properties added to the site, from a gorgeous cabin in Ashville, North Carolina, to a lovely Caribbean apartment with stunning ocean views, to a luxury villa in Florida," she continued.
MasterpieceRentals.com is currently offering a limited-time 100% no-cost annual property listing. Vacation rental owners can enter promotional code trial365 on the payment page to take advantage of this special offer. The ability to add a complimentary one year listing will expire at the end of March 2013.
To visit the website and to learn more about the service, visit http://www.MasterpieceRentals.com. Stay up-to-date by signing up for the email newsletter and visiting the blog at http://www.MasterpieceRentals.com/blog/.