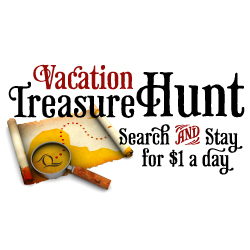 It was a pleasant surprise to see this great thing going on, and then I got lucky and won it!
Fort Walton Beach, Florida (PRWEB) January 24, 2010
A Springfield, Va., man won the first ResortQuest Vacation Treasure Hunt contest Tuesday, Jan. 19. Jeremy F. won a five-night stay at Aspen Lodge Trappeur's Crossing Resort in Steamboat Springs, Colo. Though he will pay just $1 a day, the value of the luxury accommodations is actually $3,500.
Jeremy said he was visiting the ResortQuest web sites to book accommodations for an upcoming ski trip when he came across the contest. "It was a pleasant surprise to see this great thing going on, and then I got lucky and won it!" he added.
"I have been taking ski vacations to Park City for over seven years," said Jeremy. "Winning this vacation in Steamboat will give me a chance to try some new slopes, and the Aspen Lodge looks like an amazing place to stay."
Last Tuesday was the start of an 11-week promotion that features a different ResortQuest vacation rental property each week -- a condo, vacation home or hotel suite -- at a ski destination in Aspen, Breckenridge/Keystone or Steamboat, Colo.; Park City, Utah; or Sun Valley, Idaho.
The Treasure Hunt is held every week until March 30. The next contest starts Tuesday, Jan. 26, at noon EST.
To participate, treasure hunters navigate through ResortQuest's web sites to locate a hidden treasure map icon. The treasure map reveals the toll-free number and promotion code needed to call and claim the prize. The Web site offers clues to help treasure hunters find the location of the map. New clues are continually added until someone finds the map and calls to claim the treasure.
To learn more about contest rules and how to participate in ResortQuest's Vacation Treasure Hunt, visit http://www.VacationTreasureHunt.com
About ResortQuest
ResortQuest, one of the nation's leading vacation rentals and hospitality and resort real estate companies, provides a one-stop resource for vacation bookings in premier resort destinations. ResortQuest, your Vacation Home Network, is the largest marketer and management company of vacation condominiums and home rentals in the U.S., based on a portfolio of nearly 10,000 vacation rental properties. With the inclusion of Partner Affiliates in North America and Europe, ResortQuest now offers over 100,000 vacation rental choices in over 140 destinations world-wide. With over a billion in sales, ResortQuest Real Estate is one of the nation's leading real estate companies focusing exclusively on resort properties, offering superior brokerage services in the country's premier beach, ski and golf destinations.
###