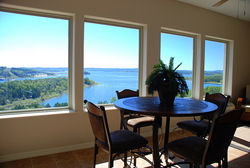 Branson, MO (PRWEB) July 16, 2008
Thousand Hills Golf Resort and Mount Pleasant Winery were the hosts for the May 22nd Branson Chamber of Commerce Business After Hours reception, which was held at the Majestic At Table Rock, Thousand Hills' newest Branson lodging option, located on Table Rock Lake. The reception was a kick-off to the Memorial Day weekend, and was also a grand opening celebration for the newly completed swimming pool and gazebo at The Majestic condos.
The Majestic, which features 2,3 and 4 bedroom luxury condos, offers those interested in owning or just renting a beautiful lake front condo the finest in Table Rock Lake views and location. Those interested in purchasing a condo at The Majestic have the option of either using it solely for themselves, or placing it on the Thousand Hills nightly rental program, where they can earn rental revenue when they are not personally using their condo. Once on the rental program, condos at the Majestic offer guests the finest in luxury lakeside Branson condo rentals. Featuring granite countertops, premier bedding, wireless internet and breathtaking lake views, The Majestic At Table Rock is truly in a class by itself when it comes to lake front ownership and nightly rental.
In attendance at the Business After Hours were nearly 150 guests, Chamber of Commerce members, and area business people, including Branson Chamber of Commerce CEO Ross Summers, and Branson Mayor Raeanne Presley. Guests were treated to a tour of condo units at The Majestic before heading to the pool area. Around the swimming pool deck guests dined on hors d'oeuvres, sampled wines from Mount Pleasant Winery, and listened to live music, while enjoying the beauty of Table Rock Lake and the surrounding area. The evening concluded with a message from Thousand Hills Golf Resort President, Dan Ruda, and giveaways of rounds of golf and free stays in the Branson vacation rentals at Thousand Hills.
For more information on experiencing the beauty and luxury of The Majestic At Table Rock, or any of Thousand Hills' luxury condo or log cabin units, call 1-800-864-4145. Thousand Hills offers nightly condos and log cabins ranging in size from Suites to 4 bedrooms, making them perfect for a romantic retreat, a family getaway, or a reunion with an entire group. You can also learn more by visiting http://www.thousandhills.com. Log on today, and let Thousand Hills make your next Branson vacation one to remember.
# # #