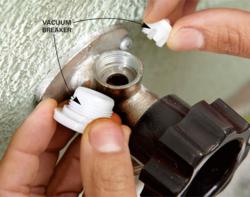 Remove and clean the O-ring, and replace it if it is nicked or cut.
Pittsburgh, Pennsylvania (PRWEB) August 31, 2012
"A vacuum breaker on an outside hose bibb is required in most areas to protect the in-house water supply from contamination," says Bob Beall, Pittsburgh PA and Youngstown OH region's, most referred plumber. According to the president of Mr Rooter Plumbing Pittsburgh, such contamination can occur, for example, when spraying liquid fertilizer on the lawn–if the water pressure in the house dropped, for example, the fertilizer could flow backward into the house water lines. Beall offers free plumbing tips daily for homeowners. To subscribe, just enter your email address at the bottom right corner at rooter2.com.
ACCORDING TO CODE: All codes require a vacuum breaker on any outside hydrant. Screw-on vacuum breakers are made for hose bibbs without vacuum-breaker or anti-backflow devices. To make your hose bibb anti-backflow, simply screw on a breaker and tighten the tab to lock it. The tab will break away.
Mr Rooter's Tip Of The Day
Tip #1 To repair a leaky breaker, remove the plastic cap with a small pipe wrench or large pliers.
Tip #2 Unscrew the slotted white plastic disk with the tips of needle-nose pliers.
Tip #3 Remove and clean the O-ring, and replace it if it is nicked or cut.
Tip #4 Clean the center seal, and replace it if it's damaged.
Mr. Rooter's Daily Tips are provided by Mr. Rooter Plumbing.
Subscribe today! (bottom right corner).
There's A Reason They Call Us Mr.™
Debra Santavicca PR, SMM, WebIT
Mr. Rooter Media Center
724-553-9510
http://www.rooter2.com