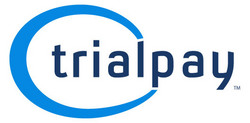 Last year, Americans alone spent $17 billion on flowers, candy and romantic dinners on Valentine's Day, but this year TrialPay ensures that shoppers everywhere can get the most for every dollar they spend
Mountain View, Calif. (PRWEB) February 3, 2009
Everyone sends flowers on Valentine's Day, and this year shoppers can get a present for themselves with every bouquet they give. TrialPay has partnered with FTD.com and some of the biggest companies on the Web to make this the sweetest Valentine's Day ever. With TrialPay, shoppers can get movie tickets from Fandango, gift certificates from Restaurant.com, photo prints from dotPhoto and hundreds of other name-brand products for free simply by sending flowers to their Valentine through http://www.trialpay.com/valentine.
TrialPay is an industry-leading payment method that lets shoppers get premier products and services for free with every purchase they make online. By sending flowers from FTD, buying clothes from Gap, signing up for Netflix or choosing from hundreds of other name-brand offers, shoppers can get the product of their choice for free. TrialPay uses money from the advertiser (FTD, Gap, Netflix, etc.) to pay for the customer's free product.
Using TrialPay's 2-for-1 model and visiting http://www.trialpay.com/valentine, this Valentine's Day savvy shoppers can plan a romantic date for the price of a bouquet--by sending a beautiful arrangement from FTD.com and selecting movie tickets from Fandango as their freebie. Or, shoppers can get a discounted dinner at the hottest restaurant in town using a Restaurant.com gift certificate that comes free with their flower order.
"Last year, Americans alone spent $17 billion on flowers, candy and romantic dinners on Valentine's Day, but this year TrialPay ensures that shoppers everywhere can get the most for every dollar they spend," said Alex Rampell, TrialPay's CEO. "With TrialPay, online merchants can make a sale every time their customers send a bouquet, and customers get a present with every purchase. Everyone wins."
To send flowers to your Valentine and get free movie tickets or the product of your choice, please visit: http://www.trialpay.com/valentine.
Note: This exclusive offer is only available through TrialPay and its partners (Fandango, Restaurant.com, etc.). The offer is not valid through FTD.com directly.
About TrialPay:
TrialPay is the only payment method that increases a customer's willingness to pay. Visa, MasterCard, PayPal and other standard payment options process transactions but they do nothing to boost sales. TrialPay entices shoppers to complete their purchase by giving a 2-for-1 with every transaction. Shoppers get their original product for free by completing one offer from blue-chip advertisers. With TrialPay, everyone wins: merchants make more sales from their current traffic, advertisers acquire new customers on a pay-for-performance basis and shoppers get a free product with every purchase.
TrialPay works with more than 7,500 premium merchants, including McAfee, The Wall Street Journal, Skype, Match.com and other industry leaders in software, games, publishing, online services and retail. TrialPay currently has more than 20 million registered users and offers 2,000 ways to pay by transacting with name-brand advertisers. For more information, visit http://www.trialpay.com.
###