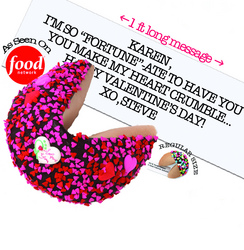 To bring joy through personal expression delivered in a unique and delicious way.
Canoga Park, California (PRWEB) February 3, 2009
This Valentine's Day send something unique, delicious and personalized by you for your Valentine from Good Fortunes. A gigantic fortune cookie with your own 11 inch personalized message inside. You can write nearly 10 sentences inside - a song, a poem or a sweet sentiment. These delicious gargantuan Valentine's Day cookies are dipped in your choice of White, Milk or Dark Chocolate as well as Caramel/Toffee.
Join Good Fortunes on our Facebook Page for special discounts all year 'round.
"Tell your Valentine how 'fortune'-ate you are to have them in your life. Nothing says I love you better than a gigantic Good Fortunes Cookie with a personalized message from you. This gift will be talked about for years and remembered forever."
Can't think of something special to say ... A Good Fortunes Cookie Counselor is standing by to help.
This Gigantic Fortune Cookie comes beautifully wrapped in cellophane and tied with an exquisite ribbon to match the decor of the cookie.
Chief Cookie Counselor, Karen Belasco's vision is "To bring joy through personal expression delivered in a unique and delicious way."
Follow Karen the Chief Cookie Counselor on Twitter
About Good Fortunes: Good Fortunes offers highly customized and personalized giftable gourmet delights and other gift items for the direct-to-consumer, wholesale and corporate markets.
Good Fortunes has been featured on The Food Network's 'Food Finds - Best of Sweets & Top 5' as well as in InStyle, Better Homes and Gardens, Us, People, The Big Idea with Donny Deutsche and many more.
A favorite product line with the Ad Specialty & Premium Promotional Markets. Perfect branded items for Tradeshows, Giveaways, Promotions and Corporate Gifting.
Good Fortunes Overview
Celebrities want them. Fortune 500 companies demand them ... and now the whole world is looking for them. Good Fortunes personalized cookies are this generation's answer to the most entertaining way to have dessert.
Karen Belasco Staitman, Chief Cookie Counselor, began her Good Fortunes' cookie business in 1995. Skilled as a party planner and born with a sense of entrepreneurialism, Karen learned the art of balancing family & business to create a successful, original business.
Good Fortunes' claim to fame is the Gigantic Gourmet Fortune Cookie with a 1 foot personalized message inside - The consumer gets to create the message - up to 10 sentences. Perfect for Weddings, Birthdays or other Special Occasions, these cookies make a lasting impression. From humorous to romantic and for every Holiday and Special Occasion, "These cookies are a gift and greeting card all in one!"
Good Fortunes is known as 'Hollywood's Cookie Company' with an extensive list of Celebrity Clientele, Hollywood Studios and Agencies.
###