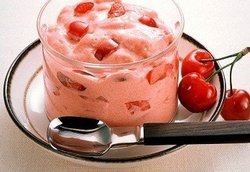 This special dinner menu for Valentine's Day sounds very gourmet, but it's very simple to create. Anyone can make it and enjoy fine dining on Valentine's Day in the comfort of their home.
Atlanta, GA (PRWEB) January 29, 2010
Angela McKeller, author of the cookbook, "Passion on a Plate: Easy and Affordable Gourmet," presents the perfect Valentine's Day dinner menu, complete with free recipes, to say, "I love you" to the ones you love.
McKeller, who has appeared on Paula Deen's TV show, "Paula's Party," and is a favorite among Food Network website fans, is an expert food blogger. She is recognized internationally for her easy recipes that make gourmet cooking simple for people who feel intimidated in the kitchen and foodies alike.
Romantic ideas abound in "Passion on a Plate," which features impressive gourmet recipes – from appetizers through dessert – that are easy to make.
McKeller states, "I don't care if you're single, married, or in a relationship. Valentines Day is a day to celebrate and appreciate the people you love. I designed this special dinner menu for Valentine's Day. It sounds very gourmet, but it's very simple to create. Anyone can make it and enjoy fine dining on Valentine's Day in the comfort of their home."
To "Serve Passion on a Plate this Valentine's Day," McKeller suggests the following:
Appetizer: "Goat Cheese Stuffed Figs Wrapped in Prosciutto" – this rich and creamy appetizer served in a Balsamic red wine reduction will immediately let loved ones know a special surprise has been prepared just for them.
Salad: "Simple Leek Salad with a Quick and Easy Vinaigrette" – Why prepare a raw salad on a cold Winter's night? This flavorful alternative will warm the belly.
Entrée: "Baked Pheasant" – Some say baked pheasant is an aphrodisiac. The ultimate in haute cuisine, this exotic alternative to chicken is just as easy to prepare.
Side Dish: "Rich Cherry Chutney" – Tantalizing taste buds, this chutney is savory, yet sweet.
Vegetable: "Honey Glazed Carrots" – Topped with fennel to add a mild licorice flavor, this vegetable side dish provides a perfect complement to the main entrée.
Dessert: "Cherry Meringue Mousse" – Sweet and sensual, this delicious dessert is easier to make than a traditional mousse.
Passion on a Plate focuses on world cuisine – from a Latin American broiled trout with a chimichurri sauce, to Asian pot roast, to Thai, Cuban, and Italian recipes, and more.
Unique to McKeller's cookbook, all recipes rely upon a standard supply of common ingredients that are used in varying combinations to create very different results. Grocery bills can be cut in half by stocking one's kitchen with McKeller's basic ingredients and using her recipes. All ingredients are indexed, and all recipes are grouped together in full meals to make party planning a breeze.
McKeller, who is known as the "Kick Back Kook," for her fun, kickback attitude about cooking, interviews the top chefs in the food industry on her pod cast and simplifies their recipes so anyone can make them at home. Her interviews include: Chef Mike Carrino, who appeared on "Chopped" on The Food Network; Chef Dawn Viola, who specializes in gluten-free, and allergy-free recipes; Chef Kevin Gillespie, a finalist from "Top Chef Season 6; Chef Santiago, a Season 6 top contender who specializes in Latin fare, and many more.
Featuring a James Dean model on her slightly suggestive, retro book cover, "Passion on a Plate" contains color photographs, cooking tips, anecdotes, and illustrations that show exactly how to present each plate in a way that is sure to impress.
Says McKeller, "You don't have to buy expensive flowers or go to an ultra-expensive restaurant to show someone you love them on Valentine's Day. If you use the shopping plan in my cookbook, nothing will cost you more than $3-$5 dollars per person to put Passion on a Plate."
To receive free recipes from McKeller's "Serve Passion on a Plate this Valentine's Day" menu, please visit: http://www.KickBackKook.com.
Contact:
Angela McKeller
Jella Enterprises, LLC
1100 Hammond Drive, Suite 410-A-230
Atlanta, GA 30328
404.825.6545
# # #