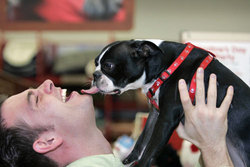 San Diego, CA (Vocus) January 29, 2009
Celebrate this Valentine's Day with other passionate pet parents and show your love for your favorite pet at all PETCO locations nationwide.
Date: Saturday, Feb. 14, 2009
Time: 11 a.m. - 2 p.m.
Where: All PETCO locations nationwide, visit PETCO.com to find the store nearest to you
Why: To celebrate this Valentine's Day with other passionate pet parents and to show your love for your favorite pet - why not?
This Valentine's Day, have some fun with our photography - get a picture with your pet or have them take center stage - and take home a Valentine for someone special. It costs only $5.95 plus tax, and every photo purchase comes with a free bandana.
PETCO suggests the following ideas to make Valentine's Day extra special for the love of your life - your pet:

Get your pet camera-ready with a pampering spa treatment. Show your love and make your appointment today at any PETCO grooming salon - times are filling up fast.
Pet-proof your home from potential hazards. Roses have dangerous thorns. Lilies, chocolate, and candy can be poisonous to your pet. Gift wraps and ribbons with that smell of sweet candy may also entice your pet to ingest them.
Give your pet a special pet-friendly treat, such as cookies from PETCO's treat bar, available in stores nationwide and on PETCO.com.
Looking for unconditional love? Find a homeless pet to share your heart and your home with by visiting Petfinder.com, PETCO's online adoption partner.
About PETCO
PETCO is a privately held specialty retailer that provides products, services and advice that make it easier for our customers to be great pet parents. We operate more than 950 stores in 50 states and the District of Columbia, as well as a leading pet products and information destination at PETCO.com. Our nonprofit organization, The PETCO Foundation, has raised more than $49 million since its inception in 1999 to help promote and improve the welfare of companion animals. In conjunction with the foundation, we work with and support more than 5,700 local animal welfare groups across the country to help find homes for more than 200,000 adoptable animals every year.
###