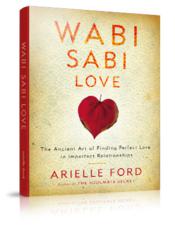 WabiSabiLove: Like two halves of a circle, each partner moves fluidly back and forth as in a dance.
Los Angeles, CA (PRWEB) February 09, 2013
This Valentine's Day, relationship advice guru Arielle Ford's new book, Wabi Sabi Love (Harper One, an imprint of Harper Collins), suggests a different kind of present: falling in love with your soulmate all over again.
A soulmate is meant to be enjoyed, but after years of living together, annoying habits and differences can start clouding one's view of their soulmate. Arielle Ford helps readers to shift their perspective and put on their "wabi sabi rose-colored glasses" so that they can go from "annoyed to enjoyed".
The anecdotes she uses to illustrate the principles of "wabi sabi love" will warm readers hearts, softening their view towards their partner's habits and differences, reminding them that, like Mrs. Lee, who missed her husband's snoring after his death, living with those qualities is far better than living without them. Ford also offers some important insight into compassion and communication. Among many other lessons, she reminds readers that no one wakes up thinking of ways to annoy their partner that day.
By learning how to practice "wabi sabi love", every day will become Valentine's Day. The gifts of compassion, communication, understanding, acceptance, and love are the kind that you can't buy in a store, but they are the ones that will mean more than anything this Valentine's Day.
Featured post this week in Maria Shriver's 'Week of Love'
Arielle Ford
Arielle Ford is a highly influential personality in the personal growth and contemporary spirituality movement. For the past 25 years she has been promoting consciousness through all forms of media. She is the author of nine books including the international bestseller, THE SOULMATE SECRET: Manifest The Love of Your Life With The Law of Attraction. Her latest book is WABI SABI LOVE: The Ancient Art of Finding Perfect Love in Imperfect Relationships.
She is the author of seven books, including the Hot Chocolate for the Mystical Soul series and The Soulmate Secret: Manifest The Love of Your Life with The Law of Attraction. Ford lives in La Jolla, California, with her husband/ soulmate, Brian Hilliard, and their feline friends.
For more information, please visit arielleford.com
To receive a free video series and other great gifts please visit WABISABILOVE.com/gifts
Follow Arielle Ford on Twitter @ArielleFord
"Like" Arielle Ford on Facebook at Facebook.com/SoulmateSecret
For media inquiries or to request a review copy, please contact:
Melinda Mullin Melinda.mullin(at)harpercollins(dot)com 415-477-4409