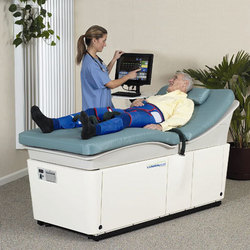 Rather than waiting until their folks aren't amenable to further revascularizations, maybe they'll try this sooner in the game. I would prefer that EECP be an intervention before patients become end stage.
Westbury, NY (Vocus) October 21, 2010
Vasomedical, Inc. ("Vasomedical") (OTC: VASO.OB), a world leader in the noninvasive treatment of cardiovascular diseases, today announced the online publication, on October 4, 2010 in the journal Circulation, of new evidence confirming improved endothelial function in patients with symptomatic coronary artery disease, in a randomized, sham-controlled clinical trial conducted by a well known cardiology group at the University of Florida in Gainesville. The Florida group led by Dr. Randy Braith and Dr. C. Richard Conti confirmed possible mechanisms of action of EECP® therapy as contemplated in a review paper by Dr. Bonetti, et al, at the Mayo Clinic in Rochester, MN and published in the Journal of the American College of Cardiology (JACC) in 2003.
The Florida study, entitled Enhanced External Counterpulsation Improves Peripheral Artery Flow-Mediated Dilation in Patients with Chronic Angina. A Randomized Sham-Controlled Study, cited the improvement in clinical outcomes, including a reduction of angina by 62% in Canadian Cardiovascular Society (CCS) Classification (compared to no change in the sham group) co-related with a 51% improvement in endothelial function as measured by peripheral flow-medicated dilation supported by a significant increase of potent vasodilators (nitric oxide 36%, 6-keto prostaglandin F(1α) 171%) and a reduction of endothelin-derived vasoconstrictive agents (endothelin-1 25%, asymmetrical dimethylarginine 28%). Also reported was a reduction in an array of inflammatory markers, the predictors of future cardiovascular events (high sensitivity-C reactive protein 32%, tumor necrosis factor-α 16%, monocyte chemoattractant protein-1 13%, and soluble vascular cell adhesion molecule-1 6%). In addition, there was a marked reduction in oxidative stress in lipid peroxidation 8-isoprostane (PGF2a) by 21%.
Commenting in an online article (http://www.theheart.org/article/1133261.do) highlighting the new study from the University of Florida, the principle investigator of the study Dr. Randy Braith said that, "Rather than waiting until their folks aren't amenable to further revascularizations, maybe they'll try this sooner in the game. I would prefer that EECP be an intervention before patients become end stage."
"This addition to the large compendium of over 150 peer-reviewed publications on EECP® therapy is the latest in a number of randomized controlled studies on this safe and effective method of treating patients suffering with angina and the angina equivalent symptoms of shortness of breath, fatigue and atypical pain," stated Larry Liebman, Vasomedical Vice President, Sales and Marketing. Other recent publications involving randomized studies include Coronary Collateral Growth by External Counterpulsation: A Randomized Controlled Trial by Steffen Gloekler, et al, at the University Hospital in Bern, Switzerland (Heart. 2010; 96:202-207), and Improvement of Fractional Flow Reserve and Collateral Flow by Treatment with External Counterpulsation (Art.Net.-2 Trial) by EE Buschmann, et al, on behalf of the Arteriogenesis Network at Charité Hospital - Universitätsmedizin Berlin, Germany (European Journal of Clinical Investigation. 2009 39(10): 866-75).
"In addition to the randomized clinical trials cited above, in an article published in September of this year in the International Journal of Cardiology, investigators at the Mayo Clinic reported on thirteen refractory angina patients prospectively enrolled in a study to examine the effects of EECP on circulating haematopoietic progenitor cells (HPCs) and endothelial progenitor cells (EPCs) using flow cytometric analysis and revealed an significant increase in HPCs over 35 1-hour course of EECP treatment," Dr. John Hui, Chief Technology Officer for Vasomedical remarked. "In this study the researchers reported that the median Canadian Cardiovascular Society (CCS) angina class decreased and the Duke Activity Status Index (DASI) functional score increased significantly, both correlated significantly with the increase in circulating HPCs. These findings are the first to link the functional improvement observed with EECP treatment with increased circulating progenitor cells, as concluded by the authors." Dr. Hui continued. "We remain encouraged by the results of these high quality studies on the EECP® therapy and look forward to more findings that provide better understanding of the therapy and eventually lead to broader application and acceptance of the therapy, therefore benefiting more patients all over the world."
For a summary of key articles on or a complete bibliography of EECP® therapy publications please visit the Vasomedical website at http://www.vasomedical.com/physicians_bibliography.php.
About Vasomedical
Vasomedical, Inc. is primarily engaged in designing, manufacturing, marketing and supporting EECP® external counterpulsation systems based on the Company's proprietary technology. EECP® therapy is a non-invasive, outpatient therapy for the treatment of diseases of the cardiovascular system currently indicated for use in cases of angina, cardiogenic shock, acute myocardial infarction and congestive heart failure. The therapy serves to increase circulation in areas of the heart with less than adequate blood supply and may restore systemic vascular function. The Company provides hospitals, clinics and private practices with EECP®equipment, treatment guidance and a staff training and maintenance program designed to provide optimal patient outcomes. EECP® is a registered trademark for Vasomedical's enhanced external counterpulsation system. Through its sales representative agreement with GE Healthcare, the Company is also engaged as an exclusive sales representative for certain GE Healthcare products. Additional information is available on the Company's website at http://www.vasomedical.com.
VasoHealthcare™, a wholly owned subsidiary of Vasomedical Inc. is a professional sales representation company offering vendors an alternative third party sales channel. Additional information is available at http://www.vasohealthcare.com.
Except for historical information contained in this release, the matters discussed are forward-looking statements that involve risks and uncertainties. When used in this release, words such as "anticipates", "believes", "could", "estimates", "expects", "may", "plans", "potential" and "intends" and similar expressions, as they relate to the Company or its management, identify forward-looking statements. Such forward-looking statements are based on the beliefs of the Company's management, as well as assumptions made by and information currently available to the Company's management. Among the factors that could cause actual results to differ materially are the following: the effect of business and economic conditions; the effect of the dramatic changes taking place in the healthcare environment; the impact of competitive procedures and products and their pricing; medical insurance reimbursement policies; unexpected manufacturing or supplier problems; unforeseen difficulties and delays in the conduct of clinical trials and other product development programs; the actions of regulatory authorities and third-party payers in the United States and overseas; uncertainties about the acceptance of a novel therapeutic modality by the medical community; continuation of the GEHC agreement; and the risk factors reported from time to time in the Company's SEC reports. The Company undertakes no obligation to update forward-looking statements as a result of future events or developments.
###