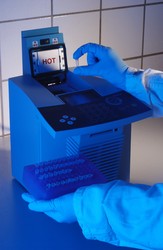 The German Genetic Diagnosis Act will bring many changes for paternity testing.
(PRWEB) January 26, 2010
The UN Convention of the Rights of the Child determines that every child has the right to know who his or her biological parents are. According to many German interest groups of fathers, this convention is more valid for mothers than for fathers. The other way round, fathers for a long time did not really have the right to know which child they fathered. bj-diagnostik GmbH emphasizes that some legislation of the recent past, however, has in fact made it much easier for a father to have the biological paternity of a child determined. The new Human Genetic Examination Act (in short: Genetic Diagnosis Act or GenDG), though, will now make a simple, private DNA paternity test more complicated (in German the buzz word is Vaterschaftstest).
From a scientific perspective, it is hardly justifiable to include DNA paternity testing in a bill to regulate genetic clinical diagnosis, since DNA paternity tests do not examine genes that carry genetic information about human characteristics or illnesses, but only those parts of the DNA that do not encode genetic information, except the gender of the person tested. These tests only determine the identity of a person, similarly to a traditional finger print. Obviously, politicians were, however, interested in curbing the easy availability of private DNA paternity testing by way of the Genetic Diagnosis Act. However, the law does not protect everyone: Human rights groups, representing immigrants and refugees in Germany, criticize that their clientele is not protected by the law, which explicitly allows (even the compulsory) paternity testing of immigrants who intend to bring their family to Germany.
bj-diagnostik GmbH reminds possible clients that mothers, fathers and children are legally entitled to ancestry or paternity testing. As recently as April 2008 has German legislation passed a bill ("Gesetz zur Klärung der Vaterschaft unabhängig vom Anfechtungsverfahren") to give disbelieving legal fathers (as well as mothers or children) the right to have the biological paternity of a child tested. This bill finally abolished the necessity for fathers to present a "reasonable doubt "about their biological fatherhood to a family court before being granted the right of a simple DNA paternity test. Up to this point in time, the father e.g. had to present a proof that the child's mother committed an infidelity during the time of procreation. The mother's consent is still required in this new legal procedure, however, her consent can be replaced by a family court's if she does not cooperate. Only in very limited cases can a court refuse the father's right of a paternity test, e.g. if the child's welfare is in danger.
Based on this first legal innovation many fathers' interest groups expected more rights for unmarried and divorced fathers as well as for so-called "Zahlväter" (fathers legally obligated to pay for a child for whom they are denied visitation rights by the mother or of which they doubt they are the biological father). The Genetic Diagnosis Act muted these expectations: The new law decrees that DNA laboratories performing paternity tests are obligated to receive explicit written consent by all parties involved in the test, i.e. alleged father, mother and child (usually represented by both parents or a legal custodian). The necessary paperwork for consent and for identity verification to use the result of the paternity test in court is provided by the laboratories and will considerably increase adminstration of DNA paternity testing both for the laboratories and their customers.
The Genetic Diagnosis Act also brings other legal innovations for ancestry testing. Ancestry and paternity testing is now confined to the de facto experts with a scientific university degree, which is a welcome change to ensure scientific quality in paternity testing. This is in stark contrast to other sections of the Genetic Diagnosis Act, which, after a certain grace period, explicitly bars many genetic specialists, who are much better qualified than medical doctors in human genetics, from performing genetic clinical diagnosis without the involvement of a medical doctor. According to professional interest groups this is a disgrace.
Dr. Michael Jung of bj-diagnostik clarifies: "Contrary to popular belief, doctors of natural sciences (with the German title "Dr. rer. nat." = rerum naturalium, which is a PhD in science) much more often than medical doctors have the necessary scientific, mathematical and statistical education and knowledge to perform ancestry testing in a DNA laboratory and to calculate likelihood of ancestry." This expertise also makes sure that participants in a DNA ancestry analysis are professionally informed about the "nature, meaning and scope" (GenDG §9) of a paternity test.
Naturally, many disbelieving fathers wonder whether they can simply perform a paternity test without the mother's explicit consent abroad. Principally, laboratories outside Germany, especially those within the EU, offer the same quality level than German providers, however, the German customer is still violating applicable German laws. For many fathers the only remaining way is that of personally gaining the mother's consent, or alternatively using the official process via a family court.
bj-diagnostik GmbH, founded in 1998 in Giessen/Germany, under the direction of Dr. rer. nat. Michael Jung, has been one of the first private companies offering DNA paternity testing. bj-diagnostik regularly and very successfully participates in quality assurance measures organized by the German Society of Legal Medicine. Besides simple paternity testing, Dr. Jung is specialized on complex ancestry tests (e.g. sibling tests, indirect paternity testing if the father is deceased, paternity analysis for immigration purposes) and on advising attorneys on DNA traces in criminal law.
###