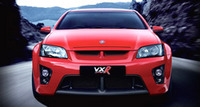 Manchester, U.K (PRWEB) February 26, 2009
In this time of frugalness set to result in a good two years of austerity Vauxhall is fighting back with the recent launch of the Vauxhall Insignia, the new flagship model, but is proving almost decadent as the world sees the release of the brand new VXR8 Bathurst S. Conceived in the spiritual home of Australian Motorsport, Bathurst in New South Wales has become synonymous with power, guts, technical excellence and proving ground for some of very best V8 Supercar drivers the world has produced. Known to the Aussies as 'The Great Race', the Mount Panorama circuit has hosted over 50 races since conception in 1960. The most recent legend of the circuit is Peter Brock whose won the championship nine times and led to the subsequent introduction of the Peter Brock Trophy in 2006. In recognition of the circuit, and the drivers and in true racing style Vauxhall has released its most potent car ever.
For the hardened among us the VXR8 was great but not super-great but now they've teamed up with the high performance experts Walkinshaw to produce this special edition. Walkinshaw engineering has a well-established history of converting and upgrading superchargers in Australia and the UK and they've now coupled the latest 122 supercharger with the 6.2 litre LS3 V8 to produce the 552bhp VXR8 Bathurst S. Other modifications include a WP Engine ECU re-map, a large capacity intercooler, cold air intake, high flow fuel injectors and stiffened suspension. The standard conversion gives a 30% increase in power on the normally aspirated model. Torque has been revised down 41lb ft down on the old supercharged car's 568lb ft as a concession between performance and durability.
For those with the money and inclination you could decide on the WP 122 Superplus upgrade. This option yields an insidious 40% increase in power and torque, 9-10 psi boost pressure; a further refined engine management system and a greater capacity fuel pump. This is more of a track car so expect track car maintenance; beware that the brakes, transmission and clutch will be vulnerable to excessive wear and tear. Perhaps a more sensible optional extra would be what Vauxhall has termed a 'Bi-modal' exhaust system that permits two noise settings; The street setting limits the Bathurst S to 92dbA, whilst the optimum setting allows the full heart pounding 102dbA. At around the £45k mark, Vauxhall really has made breath taking power and performance an affordable luxury, but given the current operating environment it remains to be seen if it's a winner on the forecourt.
New car reviews by Carbag for Grimshaws, a fully franchised Vauxhall dealer network located throughout Greater Manchester. For more information call 0161 798 7000 or visit the Grimshaws Vauxhall website.
###